Funciones: 16-17 de febrero, 8 p.m. Taller: 17 de febrero, 1 p.m.
Note: This Spanish Language article is an experiment we are conducting. For the English version, please
visit this page
.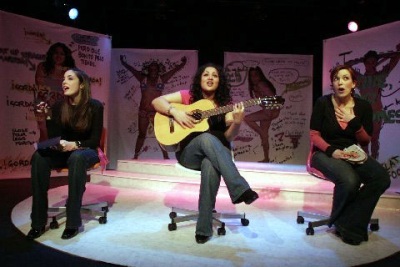 ST MARY'S CITY, Md. —¿Qué tienen en común el sexo, los video juegos y la tienda Trader Joe's? Descúbralo en la nueva obra de Teatro Luna el viernes 16 y sábado 17 de febrero en St. Mary's College of Maryland. La obra comienza ambas noches a las 8 p.m. en el Teatro Bruce Davis en Montgomery Hall. Los boletos para el show cuestan $4 y $6. Para hacer reservaciones, llame a la Oficina de Teatro al (240) 895-4243 o mande un e-mail a boxoffice@smcm.edu.
Además de la obra, los miembros del grupo conducirán un taller llamado "Actuando en la Comunidad" el sábado 17 de febrero de 1-3 p.m. en el Teatro Bruce Davis. Esta clase usa actuación y ejercicios escritos para generar una representación autobiográfica colectiva. El taller es gratis y está abierto a todos.
Margo Jefferson de The New York Times ha elogiado a Teatro Luna diciendo que esta compañía teatral "hace que el teatro importe otra vez." Teatro Luna fue fundado en el año 2000 por Tanya Saracho y Coya Paz, una ex-alumna de St. Mary's College of Maryland graduada en 1997. Ambas mujeres, decepcionadas por la falta de papeles dramáticos serios para mujeres latinas, decidieron formar su propio tipo de teatro que ni las estereotipara ni ignorara.
Su obra mas reciente, S-E-X-Oh! fue estrenada en el 2005 en el PAC/Edge Festival y ha sido representada en Chicago y San Francisco. "Queríamos hacer una obra sobre la sexualidad—pero que tenga más que ver con el género sexual y el proceso de encuentro con la sensualidad propia." dijo Paz.
"Aunque estas historias son reales y ocurrieron a quienes las cuentan, parece que mucha gente puede identificarse con ellas. Estamos tratando de crear un diálogo sobre el sexo y la sexualidad. Queremos que él publico se divierta y que piense en lo espacios comunes que compartimos. Yo creo que el 99 por ciento de mujeres salen de la obra sintiéndose bien."
Patrocinado por el Deparmtment of Theater, Film, and Media Studies, la actuación de Teatro Luna es posible por el generoso apoyo del Lecture and Fine Arts Committee de SMCM, de la Arts Alliance de SMCM, de la SMCM Foundation, del Department of International Languages and Cultures y de Women, Gender, and Sexuality Studies.