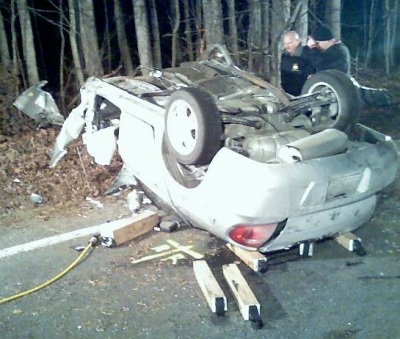 This crash on Chancellor's Run Road on Saturday, Feb. 10, 2007 claimed the lives of the driver and his passenger. The front end of the vehicle was found twenty feet into the nearby woods. Photo courtesy of Bay District VFD.
More Photos
.
LEONARDTOWN, Md. - Two twenty-something men lost their lives on Saturday in a single car crash on Chancellors Run Road. According to police, speed and driver error is considered to be a contributing factor in the collision.
On February 10, at approximately 11:47 p.m., David Joseph Kimball, age 25 of Chaptico, Maryland and William Clayton Flanary, age 27 of California, Maryland, were traveling south on Chancellors Run Road in Great Mills at what a witness described as a high rate of speed. The vehicle failed to negotiate a curve, left the southbound side of the roadway, struck a tree, and overturned into the roadway.
The passenger, William Flanary, was ejected from the vehicle. The driver, David Kimball, was trapped and had to be removed by the Bay District Volunteer Fire Department.
The driver was flown by helicopter Trooper 2 to Washington Hospital Center. The passenger was flown by helicopter Trooper 7 to PG Shock Trama. Both the driver and the passenger died as a result of their injuries.
Speed and driver error is considered as a contributing factor in the collision.
SDFC Milam of the St. Mary's County Sheriff's Office Reconstruction Team is continuing the investigation.
RELATED INFORMATION:
Photos and Bay District VFD's account of their rescue:
http://www.bdvfd.org/index.cfm?fs=news.newsView&News_ID=377
Obituary for
David Joseph Kimball