Thirty year-old Hollywood, Md. man who caused accident arrested for DUI by MSP Trooper. Also arrested for DUI on 02-DEC-2006 by same Trooper.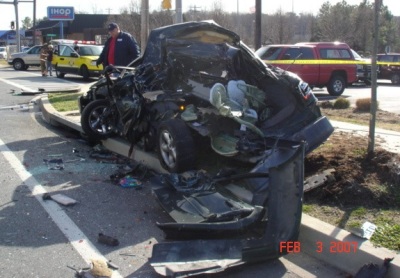 The Cadillac Catera pictured above was part of a six-car accident that injured a five-month-old baby girl, her mother, and several other drivers and passengers. Alexis Ann Hahn, the five-month-old, was inside this vehicle when it was hit by the alleged DUI driver, Ernest Charles Mincey. Photo Courtesy of Hollywood Volunteer Fire Department.
More Photos
.
By The County Times
LEXINGTON PARK, Md. - A six-car collision near Lexington Park Sunday afternoon resulted in injuries to a five-month-old baby girl, her mother, 21, two other drivers and a passenger.
State police report that Ernest Charles Mincey was driving southbound in a Ford E250 van when he struck a 1998 Cadillac Catera operated by Serena Ann Hahn, 21, of Lexington Park, which was stopped at the traffic signal on Three Notch Road and Corporate Drive in front of the Lonestar restaurant.
Hahn then struck the rear of a 2006 Chevrolet Express, driven by Arden Joseph Keck, III, 22 , of California, and then went up on the right curb and sidewalk where it came to rest. Mincey then struck a 2003 Volkswagon Jetta, heading southbound, operated by Dana Lynn Lomas, 36, of Lexington Park, which was stopped at the light. This caused Lomas to strike Keck's vehicle, which had been pushed out into the intersection following the collision from Hahn's vehicle.
Mincey continued on to strike a 2004 Chevrolet Venture, operated by Michael Lawrence Highly, 43, of Leonardtown, before his Ford came to rest on its roof in the intersection. Keck subsequently struck a 2006 Toyota Tacoma in the intersection operated by Frederic Mohamad Felcan, 29, of Lexington Park.
Mincey was transported to Medstar for treatment. Alexis Ann Hahn, five-months-old, and a passenger in her mother's car, was transported to DC Children's Hospital for treatment. Hahn was transported to the Baltimore Shock Trauma Center. Keck, his passenger Zachary Leigh Griffith, 21, Lexington Park and Lomas were transported to St. Mary's Hospital.
Police report that alcohol is believed to be a contributing factor on the part of Mincey. Charges are pending.
SoMd.com Editor's Note:
The Maryland Judiciary Case Database shows that Ernest Charles Mincey has five active court cases, dating from an arrest on 12/2/2006, in the St. Mary's County District Court. The charges include DUI, driving without a license, and not having tags attached to the vehicle. The record further indicates that Mincey failed to appear for court.
Maryland State Police (MSP) reports also indicate that Mincey was arrested for DUI on 2/3/07 by MSP Trooper M. A. Koock. Koock is the same officer who arrested Mincey on 12/2/2006.
See the
Letters from Serena Ann Hahn's Family and Sister-In-Law
.