By SCOTT SHEWFELT, Capital News Service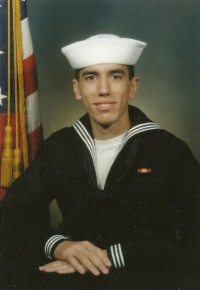 WASHINGTON - On Wednesday, Jacob Ruiz, 13, tore open a package from his big brother, Manuel.
Inside he found a baseball cap from his favorite team, the Seattle Seahawks, and a jersey of his favorite player, Shaun Alexander, said family friend Adam Lusk.
The last thing Navy Corpsman Manuel Ruiz (pictured top-left), 21, did before heading back to Iraq, was mail his younger brother a birthday present, Lusk said.
Manuel Ruiz of Federalsburg was one of seven killed Wednesday when a CH-46 Sea Knight, a Marine transport helicopter, crashed in al-Anbar province, northwest of Baghdad, his mother, Lisa, confirmed.
It was the fifth American helicopter to crash in Iraq in less than three weeks.
Affectionately known by family and friends as "Little Manuel," after his father Manuel, Ruiz was constantly in touch with friends and family via e-mail, especially brothers Jacob and Josh, 16, Lusk said.
"He always put a happy smile on everyone's face," Lusk said.
As a senior at Col. William Richardson High School in Federalsburg, Manuel Ruiz decided he wanted to pursue a medical career, but didn't want to be stuck working in a hospital, Lusk said.
Being a Navy paramedic was a perfect fit.
Straight out of high school, Ruiz joined the Navy and had already done one tour of duty in Iraq before demanding to go back for a second. He left just over a week ago, Lusk said.
"He loved what he was doing," Lusk said. "He had nothing but good intentions."
Ruiz had a talent for dancing, Lusk said.
"Michael Jackson-like," Lusk said. "He did it to make people laugh, but he was also very good at it."
A member of the Second Medical Battalion based out of Marine Corps Base, Camp Lejeune, N.C., Ruiz had won several medals including the Humanitarian Service Medal, his mother said.
Naval officials told the family Wednesday night that the helicopter had crashed during a routine mission, Lusk said.
A Naval official acknowledged that a Sunni group with links to al-Qaida is claiming it brought down the Vietnam-era helicopter with an anti-aircraft missile, but said an official report will be released by the Department of Defense after an investigation.
Funeral arrangements are pending.