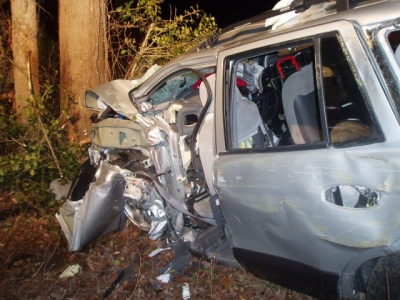 This 2005 Hyundai Santa Fe struck a tree in Callaway at 3:44 a.m. on Feb. 4, 2007. No other vehicles were involved. Photo courtesy of Second District VFD.
More photos
.
LEONARDTOWN, Md. - The St. Mary's County Sheriff's Office today reported that three people were critically injured in a single vehicle accident that occurred early this morning in Callaway, Md.
On Feb. 04, 2007 at 3:44 a.m., Arthur S. Hubbard Sr., age 21 of Great Mills, was driving his 2005 Hyundai Sante Fe southbound on Point Lookout Road south of Aster Drive when he crossed over the center lines, exited the left roadside, and struck a tree head on. Both the driver, Arthur Hubbard, and the rear seat passenger, Joshua King, age 21 of Lusby, were critically injured and were flown to Prince George's Trauma Center.
The front seat passenger, Joseph Barnes, age 16 of Tampa, Florida, received incapacitating injuries and was initially treated at St. Mary's Hospital. He was later flown to Prince George's Trauma Center.
Initial investigation points towards fatigue as a contributing factor in the collision. No other vehicles were involved in the crash.
Investigation will continue by the SDFC Emory Johnson of the Crash Reconstruction Investigation Team.