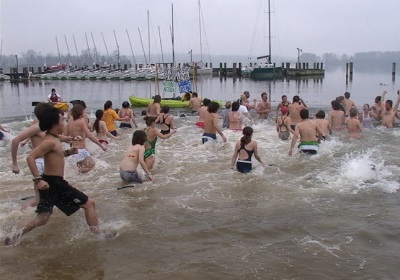 Approximately 50-60 students from the St. Mary's College of Maryland jumped into the freezing water of the St. Mary's River at approximately 3 p.m. on Friday, Feb. 02, 2007. More than 100 other students and faculty looked on. Photo by David Noss.
By David Noss
ST MARY'S CITY, Md. – When they first told me they were going to do it, I figured at most a handful of people would actually follow through. After all, it is February and while this isn't exactly the frigid northeast, it is cold this time of year. I envisioned that a group of them had been pounding down a few beers when they came up with this grand scheme. Certainly, when it came time to go through with it, they would see it with less enthusiasm.
Well, I totally underestimated the determination of America's youth on a mission. While the official count isn't in yet, we estimate that between 50 and 60 students from the St. Mary's College of Maryland (SMCM) today dove into the freezing waters of the St. Mary's River. A polar bear and more than 100 of their fellow students and faculty were on hand to cheer them on. Well, the polar bear was really a student in a polar bear costume. Real polar bears are hard to come by in Maryland.
The air temperature almost exactly matched the water temperature: 39 degrees Farenheit in the water and 38 degrees above ground. We asked two young lady swimmers shortly after they exited the water if it was cold. The answer was a resounding and emphatic, "YES!"
The reason they did it was to draw attention to the urgent issues of climate change and to demand immediate action to end our addiction to fossil fuels. The "Polar Bear Splash" was specifically designed to draw attention to the plight of all species threatened by global warming.
The student actions were part of
Rising to the Climate Challenge: Visions of Our Future
, a week-long series of actions coordinated by the Campus Climate Challenge. The St. Mary's City students joined students on over 575 college and high school campuses across the United States and Canada in urging their campus administrators to enact clean energy policies as a key solution to the impending climate crisis. Organizers have called this event "the largest mobilization in the history of the youth global warming movement."
The students at SMCM don't just stop at publicity stunts like today's event. Past history shows that they also take action. In Sept. 2006, the college implemented their Recycled Bicycle Program. The program places unlocked bicycles around campus so that anyone may use them to get to their destination in lieu of using a motor vehicle. In Aug. 2006, the college started a Behavior Modification Program to get the students to reduce their use of energy and water. As part of this week's events, students were asked to sign a pledge to promise to reduce their energy consumption, recycle, and become politically active in regards to "green initiatives."
The college also plans to install a geothermal heat pump when it rebuilds its boathouse in the near future. Whereas normal heat pumps extract warmth from the surrounding air, geothermal systems bury a network of tubes in the ground to take advantage of the earth's ambient, year-round temperature of approximately 54 degrees F. Geothermal systems have been around for years. However, they are not widely used because they cost a few thousand dollars more than conventional systems.
While the Polar Bear Splash brought attention to the very serious issues of global warming and dependence on fossil fuels, there was still opportunity for a little levity at today's event. The comedic relief was provided by a handful of young men who decided to enter the water completely au naturale. We suspect they never watched the "Shrinkage" episode of the Seinfeld show. We certainly hope that they have not harmed their chances for dating for the remainder of their term at the college.
The ironic ending to the story was provided by The Washington Post. The few people that drove to the event, mostly media people, all arrived in small, fuel efficient vehicles. However, the Post's photographer drove a full-size, gas guzzling, SUV and parked it mere feet away from the waterfront where the event took place. Shame on you Washington Post! But, thanks for the great ending to our story.
RELATED INFORMATION:
View a short video clip of the event
(5MB WMV File). Warning: Video contains Bare Buns!
Need to Address Global Warming Gains Momentum in Md. General Assembly
, Feb. 02, 2007
An Inconvenient Truth
, Now on DVD