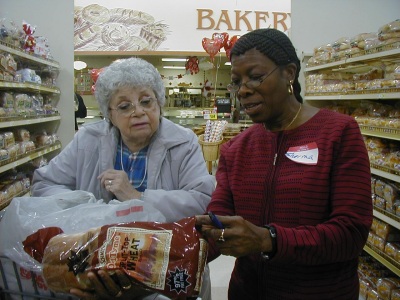 Gladys Beechner and Sherma Brisseau review a nutrition label as part of the Prince George's County Health Department Healthy Guided Supermarket Tour. Photo by Hallie C. Falquet.
By HALLIE C. FALQUET, Capital News Service
MARLOW HEIGHTS, Md. - Yvette Eisbey, 39, wants to be a "foxy mama."
"I want to lose weight and eat healthy," she said as she stuck nutrition labels to cartons of doughnuts and cakes in the Marlow Heights Giant Food where she works.
Thanks to her employer and the Prince George's County Health Department Center for Healthy Lifestyles Initiative, her goal just got a little bit easier.
The two organizations kicked off a joint-sponsored program titled, Healthy Guided Supermarket Tours, on Wednesday, with a test tour run by registered dietician Sherma Brisseau to a group of health department employees.
"I see a need in Prince George's County," Brisseau explained, "obesity is up, diabetes is up...education and prevention are the way to go."
Brisseau and a Giant Food pharmacist will lead tours of 15 pre-registered consumers through 10 aisles of the supermarket, teaching the group how to read nutrition labels and make healthy shopping choices.
Even though Wednesday's tour was just a test, Brisseau never hesitated to grab shoppers and pull them into the group for a quick lesson.
"What's that in your cart? Why'd you choose that kind of bread?" she asked Gladys Beechner, who shops at Giant Food once a week.
"My husband has to have that kind," Beechner responded, "so that's what I buy."
That was an answer that Brisseau kindly did not accept.
The tour leader explained to Beechner and the rest of the group the importance of fiber and how to compare one kind of bread to another to get the most for your money.
"Don't pay for whole wheat and get white bread ingredients," she said. "Make sure if you're going to spend the extra money you get the kind with the extra nutrients too."
The District Heights Giant Food will host the first official tour Feb. 7 and has already registered a full group.
The tour costs $15, but each participant receives a tote bag and a $10 gift card to the supermarket.
Eisby wants to join in on her day off not just to help herself, but her daughter too.
"I have a 14-year-old daughter who has diabetic grandparents," Eisby said, "I'm trying to teach her how to eat healthy."
Giant ran similar tours focused solely on diabetes from the early '90s until 2003, when a lack of funding forced them to end the program, said Paulette Thompson, Giant Food health and wellness manager.
Now that the health department administers the tours, Thompson said, the supermarket is happy to provide the venue.
"We're always looking for ways to help inform our customers and educate them on how to be healthy."
To find the times and locations of upcoming tours call the Prince George's County Health Department at (301) 883-3409.