By David Noss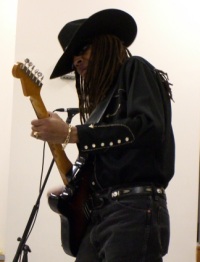 PRINCE FREDERICK, Md. - The College of Southern Maryland (CSM) today kicked off Black History Month with a live Blues performance in the student lounge of their Prince Frederick Campus. The performance, which ran for over an hour, featured Reggie Wayne Morris. Morris is an African-American Blues performer from Silver Spring. He was accompanied by a drummer and a bass player, both whom originated from Baltimore.
Morris and his band performed several classic blues numbers as well as a few original numbers. They played to an audience of up to 50 students, staff, and local blues aficionados. While many of the younger audience members looked as if the Blues genre was foreign to them, they quickly warmed up to Morris' fast-paced and dynamic performance.
Black History Month is celebrated annually in the United States and Canada in the month of February. In the United Kingdom it is celebrated in the month of October. Black History Month originated in 1926 as "Negro History Week." Over the years, these traditions have served to highlight the important role of the African-American people and culture in American society. Scholars note that prior to the advent of Negro History Week, black history was rarely studied or documented in the United States.
Steny Hoyer (D-MD) today commented: "We should all remain aware of the fact that our nation's diversity serves as the foundation of our greatest strengths and the inspiration behind our greatest accomplishments. Together, we are creating a nation of people bonded not by race, religion, sect or creed, but rather by common goals, shared beliefs and collective achievements. That is why African-American history is so essential to the American experience. From Frederick Douglas to Dr. Martin Luther King Jr., from George Washington Carver to Thurgood Marshall, and from Harriet Tubman to Maya Angelou, the numerous contributions that African-Americans have made throughout our nation's existence have provided benefits that all of our people can share."
A Blues performance was selected as the kick-off event because The Blues evolved from the African-American people during the time of slavery in the United States. It is influenced by call-and-response patterns derived from West African culture. The Blues is a highly emotional form of music that expresses the pain and suffering of an enslaved people who even after having been freed from decades of slavery, had to endure racial hatred and social inequality for generations.
The Blues is also the foundation for much of today's popular music. The Blues was a major influence in the lives of many famous musicians and bands including Elvis Presley, The Beatles, The Rolling Stones, and Eric Clapton.
RELATED INFORMATION:
Reggie Wayne Morris
http://www.reggiewaynemorris.com/