Police Are Looking For Citizens Who May Have Been Conned Out of Money to Come Forward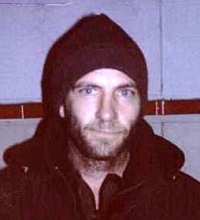 LEONARDTOWN, Md. - St. Mary's County Sheriff's Office Deputies yesterday arrested a man who is accused of conning good-natured citizens out of money. According to Lieutenant Daniel D. Alioto, the suspect would approach people who, in his words, "looked nice" and tell them that his vehicle had broken down. He would then ask for money. According to Alioto, there were variations of the story told to victims. However, they all had the common theme of asking for funds to help him out of his bind.
The man arrested was identified as Daniel Lewis Edwards (see photo, top-left, taken at time of arrest in San Souci), age 39 of Leonardtown, Md. Edwards originally gave police a false name of "Mark William Swanson."
The Sheriff's Office says that deputies were patrolling numerous areas attempting to locate the suspect last evening. Off-duty Senior Deputy First Class Harold Young, who had been briefed on the lookout, observed the suspect in the San Souci area. He detained the suspect and summoned additional units to assist.
According to police, Edwards insisted he was another person and demanded to be released. He was identified positively as Daniel Lewis Edwards from a police photograph. Even when faced with the photograph, Edwards insisted that deputies were mistaken about his identity.
Police say that Edwards was also wanted on two outstanding warrants from Calvert County.
Edwards was arrested and charged with providing a False Statement to a Police Officer and Theft Scheme under $500.00. He was also served with the two outstanding warrants from Calvert County.
At this time, several people have stated to police that Edwards conned them out of money. Sheriff's Office officials expect that the total dollar amount of Edward's alleged cons will exceed $500.00 once additional victims come forward.
If you believe you have been a victim of a scam conducted by Daniel Lewis Edwards (see photo at top of this article), please contact Lt. Daniel D. Alioto at 301-475-4200 Ext 1918.