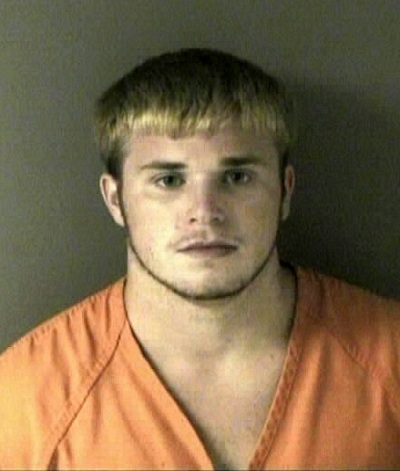 The St. Mary's County Sheriff's Department advises citizens to be on the lookout for this escaped prisoner, Paul Anthony Pitner. You should dial 911 if you see the man.
UPDATE 5:27 p.m.:
Police just announced over police frequencies at 5:27 p.m. that the prisoner has been taken into custody. He was spotted by Trooper 7 (Maryland State Police (MSP) Helicopter) behind the CSM Leonardtown Campus.
UPDATE 6:32 p.m.:
According to the Sheriff's Office, Pitner was transported to the Detention Center and was served with the additional charge of Escape Second Degree. No one was injured as a result of this event.
LEONARDTOWN, Md. (Thursday, Jan. 25, 2005, 4:50 p.m.) - According to the St. Mary's County Sheriff's Office, a prisoner today escaped from their custody after being returned to the Detention Center shortly after being sentenced to five years in prison.
Deputies are currently looking for Paul Anthony Pitner (pictured above). Pitner was an inmate at the St. Mary's County Detention Center in the work release program. Pitner was taken to Court today where he was sentenced to five years in prison. Upon returning to the Detention Center to gather his belongings, he escaped from the housing unit.
Pitner is a white male weighing approximately 170 pounds, brown hair and green eyes. He has tattoos on his neck and back and is wearing a white tee shirt and jail issued striped pants. A "Code Red Alert" was sent to all affected Leonardtown residents, notifying them of the situation.
According to the Maryland Judiciary Case Database, Pitner was up on four related charges in the District Court for St. Mary's County. The charges include theft, both under and over $500, and the unlawful taking of a motor vehicle. According to the records, he was being represented by Assistant Public Defender William F. Renahan.
You can listen to the ongoing search using the
on-line police radio scanner
.