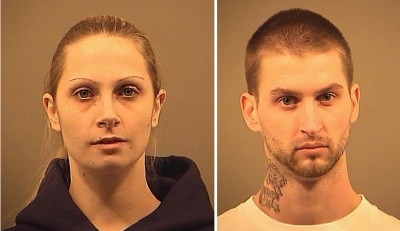 Shannon Nicole Turner, 22, of Lothian and Jason Allen Miller, 27, of La Plata were charged with first-degree burglary. Charles County Sheriff's Office Arrest Photos.
LA PLATA, Md. - The Charles County Sheriff's Office announced today that they have arrested a man and a woman they say are responsible for a half-dozen burglaries that occurred in January.
The arrests were made after officers responded to a residence in the 3800 block of Fawn Lane in White Plains on Tuesday, Jan. 23 at 10:22 a.m. A woman reported she entered the residence and heard noises upstairs. When she called out to see who was there, the two suspects ran down the stairs and out the front door to their car.
Officers who were responding to the scene were provided with a lookout for the suspects' vehicle. Sgt. J. Stoddard observed the vehicle on Billingsley Road and conducted a traffic stop. Officers confirmed the occupants of the vehicle were the suspects and arrested them.
Jason Allen Miller, 27, of La Plata and Shannon Nicole Turner, 22, of Lothian were charged with first-degree burglary and were transported to the Sheriff's Office's Headquarters. Burglary detectives interviewed them and linked them to five other daytime residential burglaries or attempted burglaries in Waldorf, Welcome, and White Plains, based on similar suspect and vehicle descriptions. Detectives also recovered evidence from the burglaries including firearms, electronic components, and jewelry.
Charges are pending in the other burglaries and detectives are forwarding information to other law enforcement agencies to see if the suspects are connected to burglaries in other jurisdictions. Miller and Turner are being held at the Charles County Detention Center on $45,000 bonds.
Det. Y. Austin and Det. J. McKenzie are investigating.