By PATRICIA M. MURRET, Capital News Service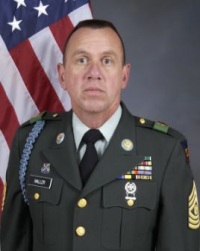 WASHINGTON - National Guard Command Sgt. Maj. Roger Haller (pictured at left) was tough—training hundreds of troops in tactics and weapons, but when he wanted quiet he went to a favorite spot at Camp Baker overlooking the Potomac River.
At the spot known among soldiers as "Kilo," he was able to enjoy the sunset and reflect, his friends said. When he said good-bye he often used "kilo" meaning, "peace."
Now his friends wish him "kilo."
Haller, 49, of Davidsonville, the highest-ranking enlisted soldier of the 70th Regiment, Maryland Army National Guard, at Camp Fretterd in Reisterstown, died Saturday, one of 12 soldiers killed in a UH-60 Blackhawk helicopter crash northeast of Baghdad, Department of Defense officials confirmed Wednesday.
"He was the kind of guy who would give you the shirt off his back. He would take a bullet for anybody—he would step in line—that's the kind of guy he was," recalled Haller's friend, retired Command Sgt. Maj. Kathleen Hurley.
A 24-year member of the Maryland Guard, Haller was serving an active tour of duty as a senior liaison with the National Guard Bureau providing guidance on personnel issues to soldiers and their families. He deployed in early December to Afghanistan on a six-month rotation, but recently continued his mission in Iraq.
As the senior enlisted adviser of the 70th Regiment's Regional Training Institute in Reisterstown, Haller was responsible for educating sergeants in the Maryland area hoping to become commissioned officers, and he taught basic and advanced leadership courses to Guard recruits.
Haller often took his trainees to the Camp Baker woods for weeks at a time to teach small arms artillery use, mountaineering and rappelling.
"In order to be able to teach, you have to walk the walk by day," said longtime friend and fellow officer, Sgt. 1st Class John E. Greer. "He was the standard."
Hurley, who met Haller 15 years ago as a student and later became his boss, found him such a good sounding board that she nicknamed him "Jiminy" after Jiminy Cricket, the Disney character in "Pinocchio" who served as the wooden puppet's conscience.
Haller's moving e-mail accounts from Afghanistan about the plight of the country's children, prompted Hurley and another friend to help an organization send coats and scarves to Afghanistan, she said.
"No matter where he was, he had a friend before he left," said Capt. Liz Barnes, his deskmate at the National Guard Bureau. "Roger was the best person I've ever met."
Hurley remembers Haller fondly as a "bull in a china shop . . . a go-getter, very forward, very outspoken."
"He had no problem telling you like it was," she said. "He would bend over backwards for you, and sometimes it got him in trouble," she said. Haller went to the mat for what he believed was right, she said, especially for his sergeants. "He cared. He really cared."
Haller, who considered Cambridge his hometown, spoke often of his children, Morgan, 21, and Kathryn "Alex" Haller, 17, of Cambridge, and Army Sgt. Daniel Haller, 22, his friends said, recently worrying about his oldest.
But Haller also delighted in the military service of his son, an Army paratrooper with the 172nd Stryker Brigade Combat Team who served tours in Afghanistan and Iraq service. Haller particularly enjoyed the "tips" about military life his son provided.
On leave from active duty, Sgt. Daniel Haller returned three days before Haller deployed and spent Thanksgiving with his father.
Funeral arrangements are pending.