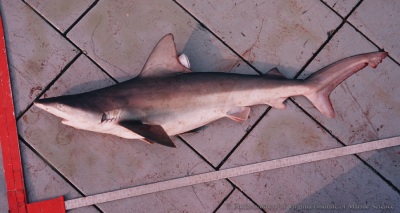 Sandbar Shark. Photo courtesy of Virginia Institute of Marine Science (
www.vims.edu
).
By MEGAN HARTLEY, Capital News Service
ANNAPOLIS - Sharks in the Chesapeake Bay? You bet - and environmentalists say there are not enough of them.
In the summer, the lower Chesapeake Bay harbors one of the world's most important nursery grounds for the sandbar shark, a menacing predator perched on the top of the bay's long food chain.
"Sometimes they'll bite your fish off the line when you wind them in," said Larry Simns, President of the Maryland Watermen's Association. "They can be pretty big."
The problem is, many watermen are not catching the shark by accident. Some target the chomping predator because the meat and fins can bring a nice price at a time when making a living from the water is getting harder and harder.
Regular shark meat costs around $6.95 per pound in markets on the U.S. East Coast. But in Hong Kong and other markets in Asia, where shark fin soup is a rare delicacy, shark fins can run upwards of $200 per pound.
Add that demand to the fact that the sandbar shark's flesh and large fins are particularly tasty and considered of a very high quality, and it is clear these economic factors have not been good for the shark, whose numbers have been dwindling for more than two decades.
"The situation is pretty grim for sandbar sharks," said Karyl Brewster-Geisz, fishery management specialist for the National Oceanic and Atmospheric Association. "They are severely over fished." In June NOAA released a study that urged the annual catch for the dwindling sandbar shark decrease by about 78 percent in order for the population to recover by the year 2070.
Because of fear of over-fishing and potential fines that come with it, most watermen are skittish about going into detail about the monetary values associated with shark fishing in the bay and the Atlantic.
But one waterman, Ernest Bowden of the Eastern Shore Watermen's Association in Virginia, said that shark fishing makes up about 25 percent of his annual catch and sandbar sharks make up around 20 percent of the sharks he catches. His catch comes from the Atlantic and is entirely legal, not from the bay where regulations mandate that sharks be 58 inches - about five feet and 15 years old.
John A. "Jack" Musick, an expert on sharks from the Virginia Institute of Marine Science, believes that the decline began in the 1980s as a result of a popular culture phenomenon.
"After the movie Jaws came out in 1975, recreational fishing for sharks just exploded. The recreational fisherman would take a photo with the jaws of the shark and just dump the carcass," said Musick. In 1983, recreational watermen were catching nearly 10 times more sandbar shark than they were a year before, according to statistics from the NOAA.
And now, more than two decades later, the problem is not going away. According to Musick, sandbar shark populations are about 20 to 30 percent of what they were in the 1970s.
In the mid 1980s, shipping fresh shark to faraway places such as Asia, where delicacies such as shark fin soup are in high demand, became easier. This along with the increase in popularity of shark meat and the decline in population of other fish staples such as swordfish has seen shark catches skyrocket.
Sandbar sharks are not known to be aggressive like the bull shark, rarely found in the bay, which "likes to eat any big thing," according to Musick. If a sandbar shark were to bite, it would most likely realize its mistake and swim away.
In its position at the top of the food chain, the sandbar shark enforces natural selection by eating smaller or sick fish and crustaceans. Scientists are not sure what exact impact a sandbar shark extinction would have on the bay, but it would cause some sort of disruption in the complex food web.
A sandbar shark takes about fifteen years to mature. Females come to the bay to give birth so that pups have a chance to grow where they cannot be eaten by larger sharks. The mothers than immediately swim back out to the Atlantic, leaving the juveniles to grow for the summer in a safe place.
Unfortunately, humans are taking the place of bigger sharks, killing juveniles before they even have a chance to mature and reproduce.
Since size regulations have gone into effect, it has made little sense for watermen to fish for sandbar shark in the bay, estuaries and Eastern Shore lagoons. This is because these areas are primarily inhabited by juveniles who were left by their larger mothers after birth.
Ocean waters provide a loophole for savvy waterman. Size regulations for sandbar sharks do not exist in federal and state ocean waters. This means waterman can snatch up to 4,000 pounds of shark, of any age, per day.
Musick also believes that some watermen attempt to get around the minimum size rule by claiming the fish they catch are dogfish, a smaller species of shark.
"It's easy to tell the difference, sandbar sharks have sharp triangular teeth. Dogfish don't," said Musick.
Bowden denies that watermen are intentionally confusing dogfish with sandbar sharks and agrees that confusing them is not only easy but perilous.
"I don't know how someone could get a dogfish and a sandbar shark confused, just stick your finger near their mouths, that's an easy way to tell the difference," said Bowden.
Brewster-Geisz says the NOAA is pushing the Atlantic States Marine Fisheries Commission to enforce an interstate policy to reduce the number of sandbar sharks allowed to be captured.
But what does this mean for watermen who count on this species of shark for part of their livelihood?
"We're hanging around like the dinosaurs, but it's not going to take a meteor for us to go," said Bowden. Yet Brewster-Geisz has some good news. She says black tip shark - a shark common throughout the east coast which sometimes ventures into the mouth of the bay - populations are growing and could help remediate the losses of sandbar sharks in the fishing industry.