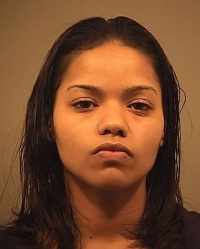 LA PLATA, Md. - Charles County Sheriff's Office homicide detectives have arrested two additional suspects in a shooting in Waldorf on Dec. 28 that left one man dead and another injured.
Detectives obtained arrest warrants for Angel Marie Park (pictured at top left), 21, of Indian Head and Alexis Jordan, 24, of Accokeek on Jan. 19. The warrants charge Park and Jordan with first-degree murder.
Park turned herself in at the La Plata District Station on Jan. 20 about 11 p.m. and is being held at the Charles County Detention Center without bond. The United States Marshals Service located Jordan in Washington, D.C., on Jan. 22 about 11 a.m. Jordan is being held in the district pending extradition to Charles County.
The investigation remains open and detectives are continuing efforts to identify additional suspects and others who may have information regarding the shooting.
Officers responded to a residential parking lot in the 3200 block of Westdale Court in Waldorf at 11:33 p.m. Dec. 28 for the report of the shooting. Upon arrival, officers observed a 2005 Dodge Magnum damaged by several bullet holes. They discovered a man inside the vehicle who had suffered a fatal gunshot wound and an adult male lying near the vehicle with a gunshot injury. Two other adult males were found in the area and were not injured.
Detectives responded to the scene and found the four victims had been seated inside the vehicle when they were approached by four or five black male suspects wearing dark clothing and masks and armed with handguns. The initial investigation revealed the suspects robbed the victims of money and property and fired shots into the vehicle and at the victims before fleeing. As the investigation progressed, detectives determined the victim and the suspects knew each other and were involved in an on-going dispute.
The deceased victim was identified as Steven Fulton McGregor, Jr., 25, of Forestville, Md. The injured man was flown by a Maryland State Police helicopter to the University of Maryland R Adams Cowley Shock Trauma Center in Baltimore. He is still being treated for his injuries. He and the other victims are not being identified because they are considered witnesses in the investigation, but they are all Waldorf males between 20 and 25 years of age. Two of them live in the area where the shooting occurred.
These arrests are the fourth and fifth in this investigation. Joseph Wendell Edwards, Jr., 20, of Waldorf and Darryl Jerome Smith, 22, of Temple Hills were charged with first-degree murder in connection with the shooting and are being held at the Charles County Detention Center without bond. Dwayne Thompson, 22, of Washington, D.C., was also charged with first-degree murder and is being held in the district pending extradition to Charles County.
Anyone with information regarding Jordan's whereabouts or the investigation is asked to contact Det. C. Shankster at 301-609-6513 or Charles County Crime Solvers at 1-866-411-TIPS. Crime Solvers is offering a reward of up to $1,000 for information that leads to an arrest or indictment in this case. All callers may remain anonymous.