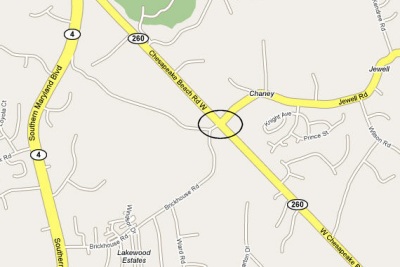 Ellipse on map shows location of the accident. Map courtesy of Google Maps.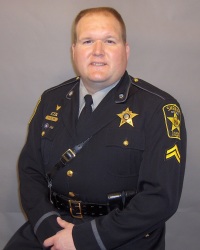 PRINCE FREDERICK, Md. - A Corporal with the Calvert County Sheriff's Office was stuck by a vehicle on Tuesday evening while he was directing traffic that was trying to reroute around another vehicle accident that had completely blocked Md. Route 4 in both directions.
According to the Sheriff's Office, on January 16 at 5:53 p.m., Cpl. Thomas Phelps was directing traffic at the intersection of Md. Rt. 260 and Jewell Road. Phelps was at this location to assist "bail out" traffic traveling through Brick House Road from Md. Rt. 4 to gain access to Md. Rt. 260. There had been a traffic crash on Rt. 4 earlier that afternoon at approximately 2:40 that left both the northbound and southbound lanes completely closed. The traffic back-up caused gridlock on every artery leading east off of Md. Rt. 4.
Phelps was injured when a westbound vehicle struck a vehicle that was exiting Jewell Road. After the initial contact between these two vehicles, the westbound vehicle bounced off of the vehicle it struck and sideswiped Phelps before coming to rest on Brickhouse Road.
Cpl. Phelps was transported to P.G. Hospital Center where he was treated for his injuries. He was kept overnight for observation. His injuries are non-life threatening.