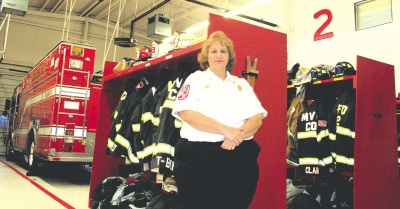 Carol Craig of Golden Beach is the first female fire chief in the 81-year history of volunteer firefighting in Southern Maryland. Photo by Andrew Knowlton.
By Andrew Knowlton, The County Times
SOUTHERN MARYLAND - One week ago, Nancy Pelosi made history when she took office as the Speaker of the United States House of Representatives – becoming the first female ever to hold that post. In Washington, D.C., Cathy Lanier became the city's first female police chief in November, 16 years after joining the department as a foot patrolman.
And on the first day of this new year, Carol Craig of Golden Beach became the first female fire chief in the 81-year history of volunteer fire departments in Southern Maryland.
"I just think it's a sign of times changing," Craig said. "More and more women now are deciding that they can do these jobs as well, and I think you'll see it more and more."
Looking at the numbers, Craig is right. Women are projected to make up 47 percent of the total labor force in 2014. They will also account for 51 percent of the increase in total labor force growth from 2004-2014, according to the U.S. Department of Labor. And while they still trail men, women are also earning jobs of higher rank and salary than ever before.
Craig has witnessed these social changes first-hand. When she joined the fire department over ten years ago, there were hardly any female firefighters. They are still far from reaching parity in this traditionally macho job, but women now comprise 10 percent of the department.
"The firefighting business has always been a predominantly male career, and I think it's just the time," Craig said. "Jobs like sports and things like that are not just one gender anymore."
In fact, Craig feels no added pressure because she is a woman. Her demeanor is incredibly calm and collected, and her tone is filled with confidence. Perhaps it is the fact that she is so composed that makes her co-workers and the public convinced she can get the job done.
"When she was captain here, she was an awesome captain," said Mechanicsville volunteer firefighter Mike Stroud, who has known Craig for seven years. "We'll go along with what she wants to do and we'll back her up and support her," added Deputy Chief Tom Kidwell.
Craig has been a resident of St. Mary's County since 1976. At the age of 16, she joined the rescue squad, where her mother and father were already members. Ten years later, the rescue squad and the fire department were joined in the same station, and Craig had the opportunity to learn more about the fire department.
It was then – 17 years ago – that she decided to give the department a shot.
"When I first joined the department, the only thing that I wanted to do was fight fire," Craig said.
But as opportunities opened up, she slowly moved up the ladder. Being a volunteer company, the department did not have enough drivers, so Craig decided to start driving smaller trucks and Jeeps. Soon after, she got her license and moved-on to larger trucks. She also became a Maryland Fire and Rescue Institute (MFRI) instructor and taught Emergency Medical Techniques. She trained for more than three years after earning a lieutenant position, and quickly polished her leadership skills. In 2006, at age 42, Craig was asked to run for chief.
"When they approached me this year to run for chief, I thought were enough peers that even wanted to nominate me and thought that I could do a good job," she said.
Craig will also have plenty of support from her family – her husband of two and half years, Gary, and her 14-month old son, Matthew.
"I'm supportive," Gary said as he took a pause from chasing little Matthew around a big empty room in the Mechanicsville station. "She's been doing it a long time before we met."
"Am I excited?" he laughed. "Sure!"
"It's going to be a challenge," Craig sighed as she picked Matthew up into her arms. "It's a big challenge to juggle everything. I think we'll do a good job with it, though."
Her passion for firefighting, like the love she has put into her family, is plain to see. Being able, on top of that, to enjoy the camaraderie of working with her fellow firefighters and to know that she can help the people of the community is extremely satisfying, she said.
The Mechanicsville Volunteer Fire Department has been successful over the years and Craig does not anticipate making many changes. She will work to keep up with current trends and with the sometimes complicated new equipment that can help firefighters when they are in the field.
And just as the equipment has changed, so have the faces of those working with it. Craig is living proof of that.
"I think most people are excited," Craig said. "People that I've talked to think it's exciting to see that there's a female chief in the area. Everybody's curious to see how things are going to run."