First State Senate Bill Will Address Early Voting
By Maryland Senator Roy Dyson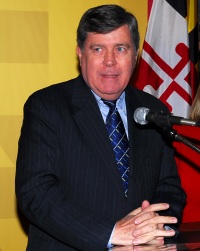 GREAT MILLS, Md. - Wednesday was the start of the 2007 General Assembly Session and a flood of bills were introduced on the first day.
Senate Bill 1 is a constitutional amendment of which I am a co-sponsor. This bill will leave it to the voters to decide if they want the state to participate in early voting. This bill has a lot of support among voters because many say it is difficult for them to get to the voting booths only on Election Day. Early voting would make it more convenient for constituents to cast their votes and would increase voter turnout.
The proposed early voting constitutional amendment would allow voters to go to a convenient polling place in their district five days before the primary and general election. The early voting process is the same as that conducted on Election Day. Election judges will oversee the voting and once you vote, you are marked off as having done so. A record will be kept of those who voted early so as to prevent voter fraud such as people attempting to vote twice.
I know that many voters have been unable to get to the polls because of work and family obligations. One example I heard of was that a local doctor who has voted in every election could not vote in the last election because of his obligations to his patients kept him too late to vote before the polls closed.
At a time when our country is at war, our brave men and women on the battlefield are fighting for the fundamental right to vote. We should be doing everything we can to encourage and make it easier for constituents to vote.
The vast majority of people I talk to support early voting. Some who have voiced objections say people who don't think they can vote on Election Day can do so by filling out an absentee ballot. However, many who support early voting have told me they feel uncomfortable voting absentee because they fear their ballot will get lost or not counted.
I believe making this issue a constitutional amendment is a good idea, because it allows the electorate to decide if they want to keep the current system as it is or change it to allow early voting.
Once again, I am submitting legislation mandating the State Department of Transportation to build a second span of the Governor Thomas Johnson Bridge. I have written about this issue before, but I believe it is important for constituents in Southern Maryland to know this is one of my top priorities because it is one of theirs.
I don't know of anybody who likes that bridge or feels safe on it. Traffic is regularly backed up on both the Calvert and St. Mary's sides. Like President Woodrow Wilson who did so much for this country, but was cursed out daily by commuters driving to and from the Washington D.C.-Metropolitan Area, poor Governor Thomas Johnson incurs the same fate.
I am also considering a series of bills that will address controlling growth and sprawl which is becoming a major issue in this state. Preserving open space and our agricultural community is of vital importance.
There are always unique pieces of legislation that are introduced that I like to let my constituents know about.
Senate Bill 5 indirectly will be of importance to Southern Maryland. If passed, this bill will make June 20, Maryland Charter Day. It was on this historic day in 1632 when King Charles I granted a charter for the "Maryland Colony" to Cecilius Calvert, the second Lord Baltimore who became the first Proprietor of the Colony of Maryland.
Of course that set the course for the Ark and the Dove to leave England to come to the shores of St. Clements Island to establish the colony that would eventually become our great state of Maryland on March 25, 1634.