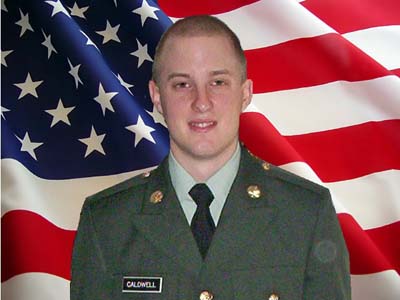 Army Spc. Eric T. Caldwell of Salisbury. Killed in Iraq. Photo Courtesy of the Caldwell family.
By PATRICIA M. MURRET, Capital News Service
WASHINGTON - Last Thursday, Army Spc. Eric T. Caldwell of Salisbury, called home from outside Baghdad to tell relatives he would be home Jan. 13 on leave from active duty in the War on Iraq.
Instead, Caldwell, 22, lies at Dover Air Force base awaiting burial at Arlington National Cemetery. He died Sunday of wounds sustained when his unit was fired on by enemy forces.
His family grieves, remembering a boy who loved crabbing and fishing off his uncle's boat in the South River and an honest, unassuming man who tattooed his arm with a Christian cross before leaving for Iraq.
"He died doing what he believed in," his father, Brian A. Caldwell, of Pennsylvania, said Friday.
Caldwell joined the military in October 2004 as a combat engineer and in February 2005, was assigned to U.S. Army 2nd Batallion, 8th Cavalry Regiment, 1st Brigade Team, 1st Cavalry Division, a defense official said Friday.
In recent months before his death, Caldwell had been awarded the National Defense Service Medal, Global War on Terrorism (Service) Medal and the Army Service Ribbon, the official said. Posthumously, he will be awarded the Bronze Star, the Purple Heart, the Army Commendation Medal and the Army Good Conduct Medal.
"There is no doubt in my mind that he was going to be a career solider," his uncle, Melvin "M.J." Caldwell Jr. of Salisbury, said Thursday. "He just loved being a soldier."
Born in Baltimore on June 17, 1984, Eric and his twin sister, Andrea Caldwell, moved to Ellicott City in 1986 to live with their grandparents, Melvin Sr. and Naomi Caldwell. After several years, the twins and their grandparents moved to Marco Island, Fla., where Eric attended elementary and middle school.
They often spent vacations with Vince and Caroline Caldwell Cerniglia in Annapolis and M.J. and Pam Caldwell in Salisbury. Both sets of aunts and uncles had three boys, and remember Eric as "another son."
In 1999, the twins moved to Gloucester, Va., to live with their mother, Vanessa Robins Caldwell, and attended Gloucester High School for three years. Then in 2003, Caldwell returned to Salisbury, which he considered home.
In late June 2003, Eric Caldwell joined the Maryland National Guard. When he returned from basic training at Fort Leonard Wood, Mo., he was so proud of his service that he insisted on wearing his colors to Sunday Mass, even after a two-day bus ride and being doused by his cousins with cologne, M.J. Caldwell recalled Thursday.
Caldwell's military service was inspired by his grandfather, Melvin Caldwell Sr., 83, a U.S. Army Air Corps radio operator and navigator on B-25 bombers in the Pacific Theater during World War II. Known affectionately in the family as "Boss," Melvin Caldwell Sr., a former attorney in Salisbury, wore his bomber jacket into old age.
His grandson worked hard to enter the military. Eric Caldwell struggled with a learning disability and spent months studying to earn his graduate equivalency diploma and pass written tests to enlist, M.J. Caldwell said.
"He found his calling. He loved it. He enjoyed the fraternity, the camaraderie, the quasi-family atmosphere."
Despite a new home in the military, Caldwell never forgot his family. Whenever possible, Caldwell e-mailed from his post outside Baghdad. He bought a pricey Iraqi cell phone so he could call at least every 10 days, at $2 per minute.
When Caldwell phoned last Thursday, his aunt promised to pick him up at the airport and prepare a holiday turkey dinner, but he joked that he would be happy eating at Chuck E. Cheese's as long as he could spend time with family.
Eric Caldwell is survived by his grandparents, Melvin and Naomi Caldwell, of Salisbury, and Earl Robins Sr., of Gloucester, Va.; father, Brian A. Caldwell, and sister, Katie Caldwell, both of suburban Philadelphia; mother, Vanessa Robins Caldwell, of Gloucester, Va.; sister, Andrea E. Caldwell, of New Orleans; his uncles and aunts, M.J. and Pam Caldwell of Salisbury, and Vince and Caroline Cerniglia of Annapolis, their children; and other relatives.
A memorial service will be held Friday in Gloucester, Va. A funeral Mass will be 1 p.m. Monday at St. Francis de Sales Catholic Church in Salisbury. Caldwell will be buried in a private service at 1 p.m. Wednesday in Arlington National Cemetery.