Lt. Gov.-Elect Anthony Brown to Speak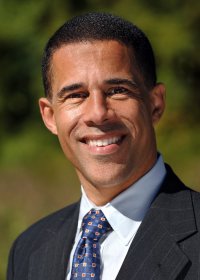 ST. MARY'S CITY, Md. - Actions and words will be recognized at the third annual Southern Maryland Martin Luther King, Jr. Prayer Breakfast on Monday, Jan. 15, 2007, from 8:30-10 a.m. at St. Mary's College of Maryland (SMCM). Lt. Governor-Elect Anthony Brown is the keynote speaker. Brown's topic is "
How are we doing, Dr. King?—America's failure to achieve economic opportunity and social equality for all
." Local volunteers will take these words into action and help needy children and the elderly later that day.
Volunteers from The St. Mary's County Department of Aging Retired Senior Volunteer Program (RSVP) will be recognized at the breakfast by the College's president Maggie O'Brien. Beginning at noon, they will help children, the elderly and low-income residents in the Spring Valley apartments in Lexington Park. The volunteers will help with cleaning and painting and also mentor to young people and the elderly. RSVP volunteers are coordinating with members of Volunteers in Service to America (VISTA) from the St. Mary's County Government Division of Community Services. This is a first annual event meant to honor the legacy and message of Dr. King who said, "Everyone can be great, because everyone can serve." For more information or to inquire about volunteering on this day of service, call Kelsey Bush at 301-475-4200 ext 1848.
The Honorable Anthony Brown will be the keynote speaker just two days before he is sworn in as lieutenant governor. As a state legislator, Brown was a member of the Maryland Legislative Black Caucus. He served in the U.S. Army, Aviation Branch in Europe and Iraq. He is a member of the NAACP, American Legion, and Veterans of Foreign Wars. Brown is a first-generation Jamaican-American and a graduate of Harvard Law School where he was an officer of the Black Law Student Association. His interests include Maryland's foster care and adoption laws, minimum wage and health-care access. Brown lives in Mitchellville with his wife and their two children.
The breakfast invocation and benediction will be given by the Reverend Roderick W. McClanahan, First Missionary Baptist Church of Lexington Park. Two gospel choirs have been invited to per-form: the St. Peter Claver Gospel Choir of St. Inigoes and the St. Mary's College of Maryland Gos-pel Choir. Master of ceremonies duties will be shared by Katrice Pitts, president of the College's Black Student Union, and Mac McClintock, chairman of the St. Mary's County Human Relations Commission.
Following the keynote address, there will be a moderated forum of participants from the first com-munity-wide race relations study circle in St. Mary's County. The St. Mary's County Board of Edu-cation, SMCM and the St. Mary's County Human Relations Commission underwrote this study cir-cle. They will discuss the impact and results of their training sessions. There will be an opportunity for those in attendance to participate in race relations community-wide study circles in early 2007.
These study circles are groups of 8 to12 people from different backgrounds and viewpoints who meet over six weeks to explore race relations in St. Mary's County. All of the study circles work on local race relations issues and solutions for the whole community.
The breakfast will be held in the College's Great Room, located on the second floor in the Campus Center. A full breakfast will be served. The cost is $6. The event is sponsored by SMCM, the St. Mary's County Human Relations Commission, Comcast and Metrocast. Early arrival is recommended as space is limited. Doors will open at 7:30 a.m. for early arrival and breakfast.