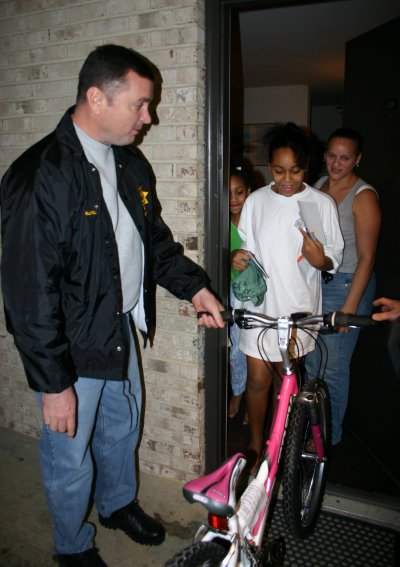 Officer Leukhardt of the Charles County Sheriff's Department delivers a Christmas bicycle on Dec. 22, 2006 to a surprised Charles County girl.
LA PLATA, Md. - Officers in the Charles County Sheriff's Office's Community Policing Unit spent the evening of Dec. 22 making special deliveries to 50 local families as part of its annual Christmas bicycle giveaway.
The Sheriff's Office and Bike Doctor of Waldorf have sponsored the giveaway for eight years. The Sheriff's Office raises money each year to purchase 50 new bicycles from Bike Doctor. Bike Doctor employees order and assemble the bicycles at no additional cost to the Sheriff's Office. The Sheriff's Office then works with Charles County Public Schools to identify the students who would benefit from such a special gift the most. Each bicycle recipient also gets a helmet.
The Sheriff's Office credits the success of the program to the Bike Doctor and the businesses, organizations, and citizens who make contributions.
The Sheriff's Office today offered their public thanks to the following individuals and organizations:
Southern Maryland Electric Cooperative
Optimum Title
Youth Entrepreneurs
Westlake Dash-In
Waldorf Moose Lodge
Ken Dixon Chevrolet
Facchina Construction Company, Inc.
Nanjemoy Volunteer Fire Department
Charles County Fraternal Order of Police, Lodge #24
Cluck-U Chicken
Property Management Enterprise
Waldorf Lions Club
Waldorf Ford
Wal-Mart
Best Buy
All American Harley
NDG Communications, Inc.
Hooters
Maredith Management, LLC, AAMC
The Clements family of La Plata
The Martin Family of Baltimore
The Welch Family of Hughesville
The Davis Family of Waldorf
The McGrath Family of Cobb Island
The Tyson Family of Waldorf
The Clark Family of Waldorf
"We are extremely grateful to everyone who helped make our bicycle giveaway possible, especially Bike Doctor, who has been our partner since the beginning," said Sheriff Rex W. Coffey. "Everyone's generosity helped make Christmas very special for families in our community."