Several Other Suspects in Waldorf Murder Remain Unidentified. Will the First Suspect Rat Out His Buddies?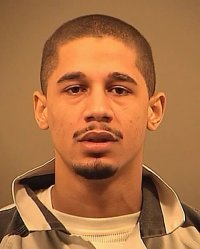 LA PLATA, Md. - Joseph Wendell Edwards, Jr., 20, of Waldorf, who was wanted for a murder that occurred recently in Waldorf, was arrested Jan. 2 after turning himself into detectives at the Charles County Sheriff's Office. Edwards is charged with first-degree murder and three counts of attempted first-degree murder and is being held at the Charles County Detention Center without bond.
Edwards' arrest is the first in the on-going investigation of an incident that occurred on Dec. 28 at 11:33 p.m. in a residential parking lot in the 3200 block of Westdale Court in Waldorf. He and three or four other suspects approached four men in a 2005 Dodge Magnum and attempted to rob them of money and other personal property. During the robbery, numerous shots were fired, killing one man and injuring another. The two other men in the car escaped without injury. Police have determined that the suspects and the victims know each other and were involved in an on-going dispute.
The other suspects, who have not been identified, are described as black males wearing dark clothing and masks and armed with handguns. Now that one suspect is in custody, the possibility exists for him to identify the other men who were involved in the incident.
The deceased victim was identified as Steven Fulton McGregor, Jr., 25, of Forestville, Md. The injured man was flown by a Maryland State Police helicopter to the University of Maryland R Adams Cowley Shock Trauma Center in Baltimore after the shooting. His injuries were serious and he remains in the hospital, where he is said to be in stable condition. He and the other victims are not being identified because they are considered witnesses in the investigation. However, police have said that they are all Waldorf men between 20 and 25 years of age. Two of the victims live in the area where the shooting occurred.
Anyone with information regarding the investigation is asked to contact Det. C. Shankster at 301-609-6513 or Charles County Crime Solvers at 1-866-411-TIPS. Crime Solvers is offering a reward of up to $1,000 for information that leads to an arrest or indictment in this case.
RELATED INFORMATION
Police ID Shooter in Dec. 28 Waldorf Murder; Man Still At large
http://somd.com/news/headlines/2007/5088.shtml
Armed Robbery in Waldorf Ends Badly; One Dead, One Injured
http://somd.com/news/headlines/2006/5077.shtml