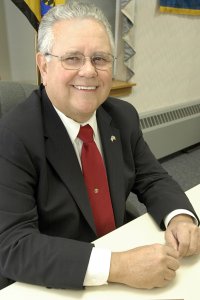 LA PLATA, Md. - The College of Southern Maryland will celebrate its seventh winter commencement at its La Plata Campus, Jan. 18. Charles County Commissioner President Wayne Cooper will provide the commencement address.
Cooper began his career as a county commissioner in 2002, serving in numerous positions including interim president in 2004, and elected commissioners' president in 2006. In addition to his duties as a county commissioner, Cooper serves as a member of the Maryland Black Caucus, the Charles County Scholarship Fund, Inc., the Civista Board of Trustees, the Lower Potomac Tributary Team, and the Maryland Association of Counties (MACo) Legislative Committee.
Previously, Cooper was elected to the Charles County Board of Education in 1996, serving the board for six years and as its chairman for three consecutive years.
Three hundred fifty-seven CSM students are candidates for degrees and certificates representing 60 programs of study. Graduation activities include a nurses' recognition program at 3 p.m. in the Physical Education Center. The college's commencement ceremony will begin at 7 p.m., Jan. 18 in the Physical Education Center. Inclement weather date is January 19. A reception will follow the ceremony in the Center for Business and Industry Building, Room 113.
For information, call 301-934-7508 or 310-870-3008, Ext.7508 or visit
http://www.csmd.edu/commencement/.