December 28 Waldorf murder believed to be result of ongoing dispute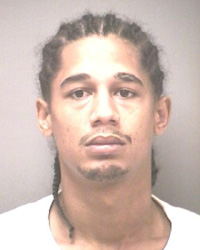 LA PLATA, Md. - Charles County Sheriff's Office homicide detectives have identified Joseph Wendell Edwards, Jr., 20, of Waldorf (pictured at left), as the suspect in a shooting in Waldorf on Dec. 28 that left one man dead and another injured.
Detectives have obtained a warrant for Edwards charging him with first-degree murder and three counts of attempted first-degree murder and are asking for the public's assistance in locating him. Edwards is described as a black male, is 5 feet 11 inches tall, weighs 140 pounds and wears his hair in long twists. He is considered armed and dangerous.
Officers responded to a residential parking lot in the 3200 block of Westdale Court in Waldorf at 11:33 p.m. Dec. 28 for the report of the shooting. Upon arrival, officers observed a 2005 Dodge Magnum damaged by several bullet holes. They discovered a man inside the vehicle who had suffered a fatal gunshot wound and an adult male lying near the vehicle with a gunshot injury. Two other adult males were found in the area and were not injured.
Detectives responded to the scene and found the four victims had been seated inside the vehicle when they were approached by four or five black male suspects wearing dark clothing and masks and armed with handguns. The initial investigation revealed the suspects attempted to rob the victims of money. During the robbery, the suspects fired between eight and 15 shots into the vehicle before fleeing.
As the investigation progressed, detectives identified Edwards as one of the suspects and determined the victim and the suspects knew each other and were involved in an on-going dispute. Detectives are working to identify the other suspects involved in the incident. They are believed to have been armed as well.
The deceased victim was identified as Steven Fulton McGregor, Jr., 25, of Forestville, Md. His body was transported to the Office of the Chief Medical Examiner in Baltimore for an autopsy.
The injured man was flown by a Maryland State Police helicopter to the University of Maryland R Adams Cowley Shock Trauma Center in Baltimore. His injuries were serious but he is said to be in stable condition. He and the other victims are not being identified because they are considered witnesses in the investigation. However, police did say that they are all males between 20 and 25 years of age who live in the Waldorf area. Two of them live in the area where the shooting occurred.
Anyone with information regarding Edwards' whereabouts or the investigation is asked to contact Det. C. Shankster at 301-609-6513 or Charles County Crime Solvers at 1-866-411-TIPS. Crime Solvers is offering a reward of up to $1,000 for information that leads to an arrest or indictment in this case.