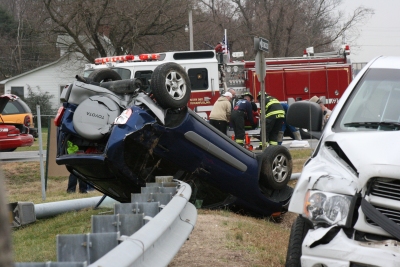 By Emily Finch, County Times
HOLLYWOOD, Md. - Two men were injured, one seriously, in a Dec. 21 crash at the intersection of Route 235 and Clarke's Landing Road.
Police report that James Miller, 66, of Burke, Va., was driving his white Dodge pickup truck northbound on 235 when the Toyota 4Runner in front of him, driven by John Mattingly, 59, of Hollywood, prepared to make a right hand turn onto Clarke's Landing Road.
Miller then struck the rear of Mattingly's vehicle, sending it across the intersection and into a ditch. Mattingly's 4Runner then hit a light pole and flipped over onto its top.
Miller was seriously injured and was flown out by Trooper 7. There was no word on his current condition at press time.
Mattingly was transported by the Lexington Park Rescue Squad to St. Mary's Memorial Hospital, where he was soon released and is in stable condition.
According to TFC Quade, one of the Maryland State Troopers who responded to the accident, Mattingly had "Just some minor cuts and bruises and seemed to be doing well considering the damage to his vehicle."
The Hollywood Volunteer Fire Department and TFC Reza of the MSP also responded to the accident and were on scene.