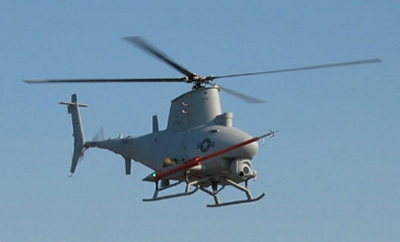 Fire Scout MQ-8B UAV makes first flight on 18 December 2006 in St. Inigoes, Maryland.
ST. INIGOES, Md. - The U.S. Navy's MQ-8B Fire Scout unmanned aerial vehicle (UAV) made its first flight on Monday, at the Webster Field annex of Patuxent River Naval Air Station, in St. Inigoes, Maryland.
The Navy's vertical takeoff and landing tactical UAV (VTUAV) system was originally dubbed the RQ-8A, but during the summer of 2005, was re-designated to the MQ-8B to reflect the Fire Scout's evolution toward an increased, multi-functional role. The test events described here mark the first flight of the enhanced variant.
During flight test, three events were conducted and executed as planned. Flight test one was a test of the command for launch abort functionality, calling for the operator to command a launch and immediately command an abort. This test ensured that the control logic would hold the aircraft on deck if it had not yet taken off.
Flight test two was a test of the same system after takeoff had commenced. It called for the operator to issue the launch command then issue an abort command immediately after takeoff.
The third flight test focused primarily on safety. Fire Scout developers have determined that when the aircraft is below ten feet, it is safest to return immediately to the deck. If the aircraft is higher than ten feet, it should continue up to a "perch" altitude of thirty feet, and await further commands. Flight test three confirmed this functionality, as the air vehicle properly ignored an abort command above ten feet and continued to the perch position. The aircraft was then allowed to hover for 12 minutes as telemetry data was recorded. Upon issuance of the land command, the aircraft executed an uneventful landing back to the launch spot.
"We are very proud of our efforts leading up to this important milestone for the program," said Cmdr. Rob Murphy, the VTUAV team lead. "We had an aggressive schedule, and the integrated team really pulled together to make it happen on time."
Some of the most notable improvements seen with the MQ variant of the Fire Scout include increased power, fuel, and payload capacity. Additionally, the MQ-8B offers more than double the mission radius and time on station than the previous version of VTUAV.
The Fire Scout UAV program strives to provide safe, reliable, repeatable, autonomous flight operations in a maritime environment from all air capable ships. When operational, Fire Scout will provide critical situational awareness, intelligence, surveillance, reconnaissance, and targeting data to the forward deployed warfighter. The program is on schedule for fleet introduction in FY 08, with full rate production in FY 09 following successful operational evaluation.
The Fire Scout UAV is manufactured by Northrop Grumman Unmanned Systems, and the program is managed by the U.S. Navy's Unmanned Air Systems program office, PMA 263.
Source: NAVAIR