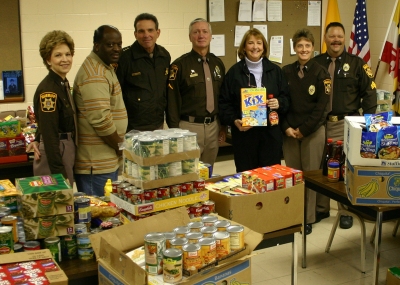 LA PLATA, Md. - Less-fortunate families in Charles County will enjoy a warm holiday meal thanks to the Charles County Sheriff's Office Correctional Officers Association (CCCOA), which hosted a food drive to support the Children's Aid Society.
The CCCOA collected 3,715 items. The food was purchased from the Food Lion in La Plata, where manager Tom Tooley assigned cashier Gayle Saliba to one register designated for the CCCOAs purchases. Ty Palomaki, the grandson of a captain at the Detention Center, helped collect all the food at the store and take the carts to the register.
"The Food Lion employees went above and beyond assisting us," said Capt. Pam Dottellis.
During the drive, Detention Center personnel created two teams; Team 1 consisted of correctional officers and support staff and Team 2 consisted of captains, lieutenants, sergeants, corporals and support supervisors. The teams challenged each other to see who could collect the most items. The winning team was treated to a holiday lunch by the other team. Team 1 collected 1,352 items and Team 2 collected 2,123 items. Additionally, the Commissary Unit donated 240 items.
The Children's Aid Society also collects food for its food bank in Waldorf. For more information about how to donate food, call 301-645-1561.