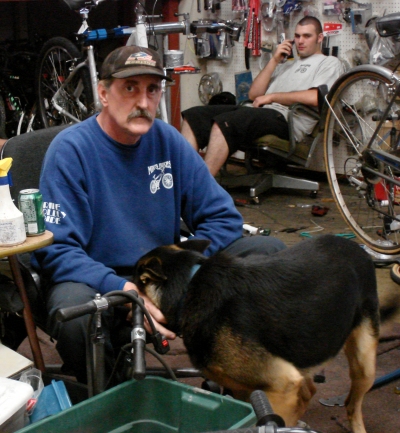 Mike Schwartz of Mike's Bikes in Great Mills and his German Sheppard, Bruce. Schwartz is the founder of Mike's Food Fund which helps deserving County residents in times of need.
By Adam Ross, County Times
Three thousand needy families in St. Mary's County cannot afford Christmas dinner this year. This is according to Mike Schwartz, a resident who has spent 22 years volunteering his time to help those families.
Using Zion United Methodist Church in Lexington Park as a base, Schwartz and his volunteers will move about a thousand turkeys starting on Tuesday. Back in 1984, Schwartz, a six foot tall man with a gray ponytail hanging out the back of a cap, said he distributed 11 turkeys to a list of people he got from the Salvation Army.
"I lived in an old wooden house in Drayden and lost everything to a house fire," he said sitting in an old rusted metal fold out chair in the center of his store Mikes Bikes off Great Mills Rd. "The Salvation Army helped me out, and as a way to pay them back I got the turkeys together."
Today, with donations from the Lexington Park Rotary, Remax, and the people of St. Mary's, Schwartz's turkeys are accompanied by ten pounds of potatoes, canned goods and in some cases presents for the kids.
The more volunteers, the more dinners Schwartz said he can deliver, but most of the time the families come to pick their dinners up.
A $15 donation can supply one family with a traditional Christmas dinner.
Schwartz said he is always looking for more volunteers, and all the donations he gets go towards food. Promotion and administration are donated from elsewhere, he added.
Through the years, when the program has yielded leftover money, Schwartz has used it to help the needy with emergencies.
With the cost of gasoline and electricity at all time highs, Schwartz said he has gone from one call every few weeks to two or three calls a week.
Most of the families helped by the program are not homeless or without employment Schwartz said.
"Most of them have two or three jobs," Schwartz added. "You wouldn't believe some of the [trouble] these people have to go through."
With his German Sheppard, Bruce, by his side Schwartz discussed how most people don't comprehend that they themselves are only two or three paychecks from a life on the street.
"As rich as the County is, there is no excuse for not helping the less fortunate," he firmly added.
"That's how we will be judged," Schwartz said looking to the ground, "how we care for the sick, old and little kids that don't have fathers."
To make a donation or to volunteer call 301-863-7887, or send a check to Mike's Food Fund at 21310C Great Mills Road, Lexington Park, MD 20653. All donations are tax deductible.
Deliveries are scheduled for Tuesday, Dec. 19 through Friday, Dec. 22. Those wishing to help can go to the Zion United Methodist Church, 21291 Three Notch Road, Lexington Park anytime after 4 p.m. on those days. Unless you know the area like the back of your hand, it doesn't hurt to have a good local map. The ADC Map books for St. Mary's County are very good. They cost around $12 and are available at Wal-Mart and various convenience stores around town.