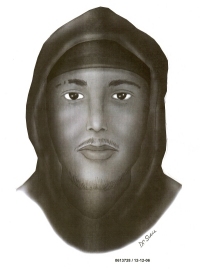 WALDORF, Md. - The crime spree in Charles County was just ratcheted up a notch on Monday when a 16 year-old girl was raped by an unknown male assailant in Waldorf.
According to the Charles County Sheriff's Department, on Dec. 11 at 5:28 p.m., officers responded to the report of a rape on a bike path on Bannister Circle near Newman Court. Their investigation revealed the victim, a 16-year-old Waldorf girl, was walking on the path at approximately 4:15 p.m. when a male suspect approached her and sexually assaulted her.
Detectives responded to the scene and conducted a canvass of the neighborhood.
The suspect is described as a black male between 19 and 25 years of age. He is about 180 pounds and between 5 feet 10 inches and 5 feet 11 inches tall. He was wearing a black hooded sweatshirt, a black skull cap and blue jeans and had cornrows in his hair.
The victim was transported to Civista Medical Center for an evaluation.
The Sheriff's Office has released a sketch of the suspect (see top left of article) and is asking anyone with information regarding his identity to call Det. G. Draheim at 301-609-6479 or Det. K. Moody at 301-609-6514.