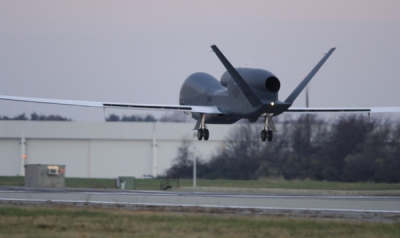 PATUXENT RIVER, Md. - The second of two U.S. Navy RQ-4A Global Hawk Maritime Demonstration (GHMD) unmanned aircraft arrived on December 6 at Naval Air Station, Patuxent River, Maryland, after an 11.1 hour flight. The aircraft flew from Edwards Air Force Base, California, where it had been undergoing acceptance tests and supporting recent Navy demonstrations over Hawaii.
The GHMD program is a pathfinder for a variety of Navy objectives for its unmanned air system program. These include: the development of maritime endurance unmanned aerial vehicle sensors; concepts of operations; tactics, techniques, and procedures; and Fleet integration with manned aircraft. Delivery of the second vehicle marks the completion of GHMD's hardware delivery under the low rate production and development contracts.
A derivative of the Northrop-Grumman RQ-4A produced for the Air Force, each GHMD aircraft has a wingspan of 116 feet, a length of 44 feet, and a maximum weight of 25,600 lbs. Each aircraft can stay aloft for over 30 hours, flying at altitudes up to 60,000 feet. The Integrated Sensor Suite includes the legacy Air Force modes of radar and a digital camera operating in both the visible light and infrared wavelengths. GHMD also includes maritime modes of Maritime Surveillance, Maritime Moving Target Indicator, Inverse Synthetic Aperture Radar as well as 360 degree passive electronic sensors.
The first GHMD aircraft made its maiden flight in October 2004, and arrived at its main operating base, NAS Patuxent River, in March of 2006.
The Navy Global Hawk program is managed by the Navy and Marine Corps Unmanned Air Systems program office, PMA-263, located at Naval Air Systems Command, Patuxent River, Maryland.