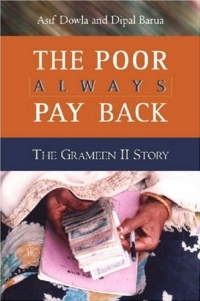 ST. MARY'S CITY, Md. - Asif Dowla, professor of economics at St. Mary's College of Maryland (SMCM), has just published a new book titled,
The Poor Always Pay Back: The Grameen II Story
. The book takes in an in-depth look at Bangladesh's Grameen Bank.
The Grameen Bank is a micro-credit bank and gives out very small loans to the unemployed, to poor entrepreneurs, and to others living in poverty. The Nobel Prize-winning institution has financially empowered the poorest families in more than a hundred countries across the globe through savings and loans. Grameen means "village" in Bengali—an Indo-Aryan language spoken in the eastern Indian subcontinent.
The book has been praised by former president Bill Clinton.
Dowla wrote the book on the invitation of his mentor, Muhammad Yunus. Yunus was the founder of the Grameen Bank. Yunus and the bank were recently jointly awarded the Nobel Peace Prize for "their efforts to create economic and social development from below." Dowla attended the Nobel ceremony in Oslo, Norway, this past Sunday, Dec. 10.
"This book captures very well the central message of Grameen—the poor always pay back," said Nobel Laureate Yunus. "I hope this book will inspire readers to play an active role in creating a world free from poverty."
The Poor Always Pay Back: The Grameen II Story
not only uncovers how a major institution is able to change its system in response to the needs of its borrowers, but also how Grameen redefined, and continues to redefine, the basic assumptions of credit worthiness of the poor. The story behind these and other innovations show why Grameen has become such an inspiration to those working for social justice everywhere. The immense success of Grameen shows a hopeful trend in the alleviation of poverty.
Dowla has worked closely with Yunus and co-author Dipal Barua since the mid-1970s. The book was researched by Dowla during sabbatical when he worked at the Grameen Bank in Bangladesh.
Dowla teaches economics at St. Mary's College where he joined the faculty in 1991 and has served as chair of the economics department. Dowla is a graduate of Bangladesh's Chittagong University where the idea for the Grameen Bank was first tried out in surrounding villages. He earned a doctorate from Southern Methodist University in 1986. He lives in Lexington Park, Maryland, with his wife, and three children.
Co-author Dipal Barua is a Deputy Managing Director of Grameen Bank and the Managing Director of the Grameen Shakti in Bangladesh.
The book is published by Kumarian Press, Bloomfield, Connecticut. The book is available on amazon.com.