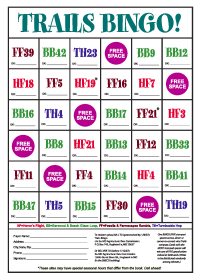 SOUTHERN MARYLAND - You're looking to find something new and exciting to do this season, and suddenly, you think, "Bingo! The Southern Maryland Trails!"
Actually, make that Southern Maryland Trails BINGO, a new promotion sponsored by Southern Maryland Trails: Earth, Art, Imagination, a guidebook featuring the area's finest food, farms, art and more.
Thirty Trails sites are hosting Trails BINGO, running now through December 31, 2006. Anyone may play by picking up a Trails BINGO card at participating locations, or printing one from the Web site at
http://www.somdtrails.com
. Players simply match the symbols on the BINGO card with the corresponding sites listed in the FREE Trails guidebook (also available on the website in PDF), and then take their card to various sites to be stamped to complete a Bingo.
Once players have a BINGO (five stamped spaces across, down or corner-to-corner), they have won a prize—a handy and functional Trails compass. If they wish to continue playing, they can visit additional sites and have more spaces stamped. Participating Trails partners have donated five grand prizes (worth $200 each) to the five players with the most stamped spaces. Players are not required to make a purchase in order to play.
The five grand prizes include a private wine tasting with appetizer pairings for ten guests from Blue Wind Gourmet, a gourmet dinner for four (including wine and bar beverages) from Cafe Des Artistes, a gift certificate and "Good Earth Goodies" from The Good Earth Natural Foods Co., a "Southern Maryland Pride Basket" and gift certificate from the Calvert Country Market, and a $200 gift certificate for art of your choice from the Heron's Way Gallery.
Trails BINGO makes its debut during December because many Trails sites feature products and services that are perfect for the holiday season. For example, Cedar Hill Farm offers live Christmas trees, wreaths and greenery; galleries such as Cobb Island Gallery and CalvARTS carry many hand-made items that make unique gifts, and players can pick up wine for parties or gift-giving at the Solomon's Winery.
The Trails guidebook and Trails BINGO offer a unique way to explore Southern Maryland. Sites include eateries and markets that feature local wine and locally-harvested meat, produce and seafood, galleries and private studios that offer original art by Southern Maryland artisans, area farms, a winery, and park sites that celebrate the area's cultural heritage.
For more information about Southern Maryland Trails: Earth, Art, Information, including how to get your free copy of the guidebook, visit
http://www.somdtrails.com
or call the Southern Maryland Agricultural Development Commission at 301-274-1922.