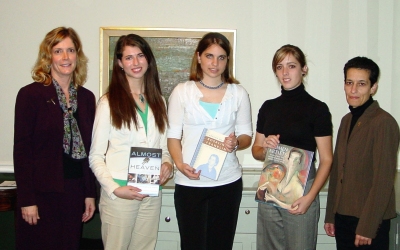 Four high school seniors recently received Phi Beta Kappa book awards at St. Mary's College of Maryland. Pictured from left to right are Lee Capristo, Director of Publications at SMCM, Sophia Traven of St. Mary's Ryken, Theresa Trossbach of Great Mills High, Allison Shafer of Leonardtown High, and Celia Rabinowitz, Director of the Library at SMCM. Not pictured is Caitlin Brooks of Chopticon High. Photo courtesy SMCM.
ST. MARY'S CITY, Md. - Four local high school seniors were recognized on Nov. 14 for their academic performance by the Zeta Chapter of Phi Beta Kappa (PBK) at St. Mary's College of Maryland (SMCM). The ninth annual book awards ceremony honored students Caitlin Brooks from Chopticon High; Theresa Trossbach from Great Mills High; Sophia Traven from St. Mary's Ryken; and Allison Shafer from Leonardtown High.
The students were selected by their high school National Honor Society advisers and the SMCM honor society for meeting the criteria of PBK excellence. The students were presented with a certificate of accomplishment and a new book specially selected for them by PTK Secretary and SMCM librarian Celia Rabinowitz.
Rabinowitz said, "The Zeta Chapter of Maryland at St. Mary's College of Maryland established the high school book award honor as a way of extending our recognition of academic excellence out to the local community, and to encourage outstanding high school seniors to continue to strive for success."
Phi Beta Kappa, founded in 1776 at the College of William and Mary, is the nation's oldest and most distinguished honor society for the liberal arts and sciences. Admission to the society is determined by a student's academic excellence, breadth of study, and character. The SMCM chapter was installed in 1997.