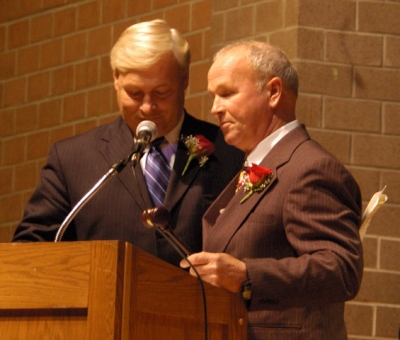 St. Mary's County's new Commissioner President Francis Jack Russell after having just accepted the ceremonial gavel from outgoing President Thomas F. McKay. Photo by David Noss.
By David Noss
GREAT MILLS, Md. - The auditorium at the Great Mills High School was packed to capacity on Monday evening as friends, family, citizens, and politicians came together to witness the swearing in of St. Mary's County officials who were elected on Nov. 7.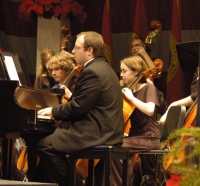 The front of the stage was adorned with brilliant, red poinsettias. A large American flag provided the backdrop. Just in front of the flag sat the Strings Orchestra which was comprised of students from Chopticon, Great Mills, and Leonardtown High Schools. The officials to be sworn in sat in the center of the stage. The Master of Ceremonies stood to the right and the official oath of office that the officials were to sign after being sworn in by the Clerk of the Circuit Court sat just to their left.
Arthur Shepherd officiated as the Master of Ceremonies. Shepherd is the Recreational Division Manager of the St. Mary's County Department of Recreation, Parks, and Community Services. After Shepherd's welcoming remarks, the Invocation was delivered by Father John Barry of the nearby Holy Angels Catholic Church.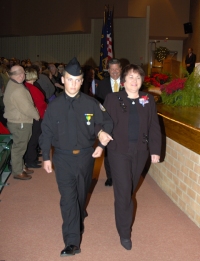 The elected officials were escorted to the stage one-by-one by members of the Reserve Officer Training Corps who were in full military dress.
Shepherd recognized the honored guests in the audience who included State Delegates John Wood and John Bohanan; Evelyn Arnold, retired Clerk of the Circuit Court; former County Commissioners Ford Dean, Rodney Thompson, Barbara Thompson, and Julie Randall; former Sheriffs David Zylak and Wayne Petit; and Commanding Officer NAS Capt. Glenn Ives among others.
In order that the new Clerk of the Circuit, Joan W. Williams, could perform her official duties, she was first sworn into office by Judge Karen Abrams.
The following elected officials were then sworn in by Williams one-by-one:
* Linda R. Dean, Judge of the Orphans' Court;
* Charles "Jenks" Mattingly, Judge of the Orphans' Court;
* Dalton Wood, Jr., Judge of the Orphans' Court;
* Dianne B. McWilliams, Register of Wills;
* William M. Mattingly, Board of Education Member;
* Salvatore L. Raspa, Board of Education Member;
* Timothy K. Cameron, Sheriff, followed by Deputy Sheriffs, Office of the Sheriff;
* Kenneth R. Dement, County Commissioner;
* Lawrence D. Jarboe, County Commissioner;
* Thomas A. Mattingly, Sr., County Commissioner;
* Daniel H. Raley, County Commissioner;
* Francis Jack Russell, County Commissioner President.

When Sheriff-elect Cameron came forward, the audience erupted into thunderous applause. This was in no small part due to the 119 Deputy Sheriffs who were present—there are a total of 122 in the department. The Deputies were all sworn in as a group by Williams. All deputies are required to be sworn into office each time a new Sheriff takes office. The Deputies came to the stage after the main ceremonies were over to sign their Oath of Office and have their photo taken with the new Sheriff.
Jannette P. Norris, Treasurer, Richard D. Fritz, State's Attorney, and Michael J. Stamm, Judge of the Circuit Court, were recognized at the ceremony but will not take the Oath of Office until a later date. Article 5 of the Maryland Code requires that the Treasurer and State's Attorney be sworn into office on the first Monday in January following the election.
One of the most notable events of the evening was the passing of the gavel from departing Commissioner President Thomas F. McKay to incoming President Francis Jack Russell.
"There is no higher religion than community service," said McKay while standing at the podium. "To work for the common good is the highest creed. I truly, truly thank you for giving me that opportunity over the last four years."
McKay then called Russell to join him. "President Russell, this gavel was given to me by my father [James "Manny" McKay] when I took office," McKay said. "Mr. President, I would like to give this to you as a token of our admiration for your dedication going forward."
Russell shook McKay's hand and accepted the gavel. "I would like to take this opportunity to thank Mr. McKay for all the great, positive things he has done for St. Mary's County," Russell said. "And personally, I would like to thank you sir for being very gracious in this time of transition."
After McKay left the podium, Russell addressed the audience as the new County Commissioner President. "I am very glad to be here," said Russell. "I am honored and humbled to be in your presence."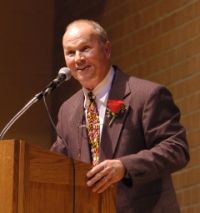 After recognizing his daughter, who was seated in the front row, and making note of all of the people behind the scenes who make government work, Russell highlighted an issue that has been close to his heart for most of his life—the health and well being of southern Maryland's waterways.
Making reference to the children who Russell has educated about the Chesapeake Bay over the years through his non-profit
Chesapeake Bay Field Lab
he said, "We talk to them about the Chesapeake, about things we've lost, and about things we're gonna lose if we don't start to act differently. We've got to act differently!"
Russell stressed the importance of community involvement in solving the County's problems. "We have got to stay involved in our communities," said Russell. "If you're involved, you've got to stay there. If you're not involved, you've got to get involved."
Russell next addressed his fellow commissioners saying, "I am truly honored to be chosen to work with each of you." He then made reference to the Commissioner's first meeting that is scheduled for Tuesday morning. "Now, we will have plenty of chance, starting tomorrow morning at 9:00 sharp, to disagree on many things. One thing we're not going to disagree on starting tomorrow is lack of communication. I do know, lack of communication breeds mistrust."
Russell closed by addressing the audience, "On behalf of everyone on this stage, I humbly ask you to accept our appreciation for you putting your trust in all of us here."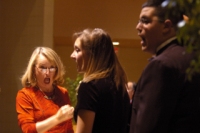 Various musical numbers were performed throughout the evening. The Peace Pipers from Chopticon High School who performed
You Are A New Day
; Ladyes Fayre from Leonardtown High School who performed the
Star Spangled Banner
, and the Chamber Singers from Great Mills High School who sang
To Him We Sing
.
After the ceremony had concluded, the audience was invited to school's cafeteria for a reception with the new officials. The hors d'oeuvres were prepared and served by the Culinary Arts students.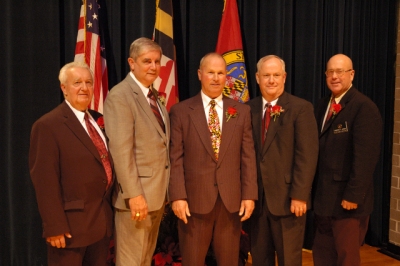 St. Mary's County's newly installed Board of Commissioners. Left to right: Kenneth Dement, Thomas Mattingly, Jack Russell, Daniel Raley, Lawrence Jarboe.