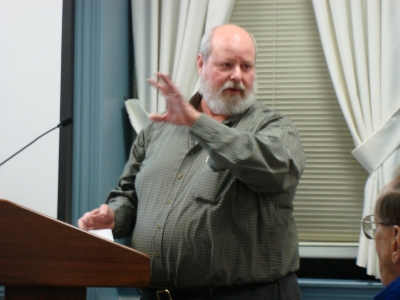 Dale F. Burch asks MetCom Director Steven L. King why Mohawk Dr. was redistricted without a complete evaluation and notice to the residents.
By Adam Ross, County Times
LEONARDTOWN, Md. - The residents of Mohawk Drive gathered triumphantly outside the St. Mary's County Governmental Center Monday following the Planning Commission's unanimous rejection of a plan to construct a water line that would have cost them thousands of dollars collectively.
In front of a packed room, with more than 70 residents, developers, MetCom staff and Land Use and Growth Management officials, Planning Commission member Shelby P. Guazzo moved to deny any category water change because of what she deemed a governmental failure to give residents the proper notification of a change.
"These people have been here for many years; I don't care for the way this was done," Guazzo said. "It's not required, but I think all government agencies have the responsibility to inform citizens when they are about to make some major improvement in their neighborhood, and this was not done in a timely manner."
In a last ditch effort to see the continuation of the Comprehensive Water and Sewerage Plan (CWSP) along Mohawk Drive, Big Horn Court and Israel Way, The St. Mary's County Department of Land Use and Growth Management revised the plan to include only two subdivisions.
Properties located 200-feet or closer from the proposed water main in those subdivisions are required to hook up. However, only five properties fell under the new guidelines.
"The objective here is to avoid economic impact on those properties that don't need or want to participate," said Senior Planner Jeffrey Jackman.
The amendment removed most of the properties which residents had shown up to represent, so comments shifted to their discontent with unknowingly being redistricted into the Charlotte Hall Town Center.
Many claimed they had never been notified of the redistricting.
Living within the Charlotte Hall Town Center means they are labeled as a growth district and will face increasing pressures from the County and State governments to subdivide their property. Developing property within the growth district into town centers is a fundamental principal of smart growth, according to Metropolitan Commission Director Steven L. King.
But in order to develop town centers there has to be public water and sewer King said in a telephone interview.
"The [residents of Mohawk Drive] are concerned about seeing the character of their neighborhood changed and they believe public water will do that," King said. "But public water is not going to change how the community develops. It's already beginning to develop and if it continues it will develop at the same rate with public water or without public water."
Residents stood up in front of the board one-by-one and requested withdrawal from the Charlotte Hall Town Center.
"This whole thing has been forced down our throats," Thomas M. Williams of 37990 Mohawk Drive said to heavy applause.
Throughout the public hearing King took to the podium to clarify particulars and to answer questions from residents.
Most residents seemed confused with the complexity of a project that leaves questions regarding the growth potential of individual properties.
King admitted that neither MetCom nor the County government had the resources to determine the mitigating factors of Mohawk Drive, and to do so would cost a large sum of money.
This means residents with larger properties face higher benefit assessment charges because they have more land to subdivide, even though the soil or landscape will not allow structural growth.
Furthermore, King said people could not seem to understand a certain level of growth is inevitable, and although the up front cost - benefit assessment costs ranging from $71 to $1,290 a year, $600 to cap a well and $25 per foot to connect to the water main - are expensive to start it will save residents money in the long run.
"There has been a dramatic decrease in the water levels of the Aquia, particularly in the last 10 years," King said. "Before long people will have to replace their wells and face the expense with doing that."
King said public water benefits the people of the subdivision, the County and the state of Maryland because it reduces growth in the rural preservation district, and eases the strain on water quality and the Chesapeake Bay.
"We've got to figure out a way for the County, State and the Federal governments to pay for the cost of these projects because they benefit us all," King added when discussing the issue of residents having to bear the brunt of the cost.
Although residents often misconstrued King as the "bad guy" with something to gain, Guazzo and other board members stressed King had only been dealing with the instructions handed down from County government.
"There's no benefit for Mr. King to be slick in regard to getting this sewer line in," Planning Commission Member Merl Evans said. "I would tell you to try and put that out of the back of your mind and lets try and move forward in a positive way."
King said it was unfortunate he had to be the bearer of bad news, although now that the Planning Commission had made a final decision to stop the project from moving forward he had no plans to further pursue it.
"All's well that ends well," a resident yelled in celebration from outside the governmental center Monday.