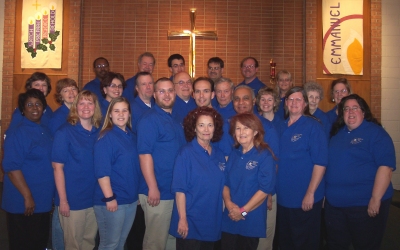 CHARLES COUNTY, Md. - The Chesapeake Choral Arts Society, directed by Michael Santana, begins its 10th season with
A Mostly Mozart Holiday Celebration
on December 16 at 7:00 p.m. at Grace Lutheran Church in La Plata.
A Mostly Mozart Holiday Celebration
will include several of Mozart's works including Ave Verum, Regina Coeli, Lacrymosa, Laudate Dominum, and Gloria from the 12th Mass. Other selections include
A Musicological Journey through the Twelve Days of Christmas
,
Embers
(by local composer and Chesapeake Choral Arts Society member W. Pete Stokes), and several seasonal numbers.
The accompanist for the concert will be Mitch Morton. Additionally, for a few of the evening's selections, the singers will also be accompanied by Port Tobacco Players' Charles County Youth Orchestra under the direction of Dr. Roy Jenkins.
Guest soloists Lisa Kay Morton (soprano) and Jennifer Cooper (Mezzo Soprano) will also be featured. The concert will conclude with an audience holiday sing-along followed by a time of fellowship and refreshment.
Tickets for the performances are $12.00 for adults and $10.00 for students and seniors. Tickets may be reserved by contacting Carol Charnock at 301-884-2955 or 301-642-0594. Tickets will also be available at the door the night of the performance.
The Grace Lutheran Church, where the concert will be performed, is located at the intersection of Route 488 and Route 6 in La Plata.
The Chesapeake Choral Arts Society (CCAS) was formed in 1996 to provide an opportunity for residents of Charles County and Southern Maryland to sing and perform complex choral compositions. Members are selected through auditions and pay an annual membership fee. Currently 30 members comprise the Society.
Carol Charnock, President of the Society, noted that "new voices are always welcome." She added that high school and college students of great musical promise are invited to participate with CCAS as scholarship students.
Chesapeake Choral Arts Society is supported in part by grants from the Charles County Arts Alliance, Maryland State Arts Council, National Endowment for the Arts, donations, and membership fees.
For information or to schedule an audition, contact the Chesapeake Choral Arts Society 301-884-2955, 301-642-0594, or visit
http://www.chesapeakechoral.com/.