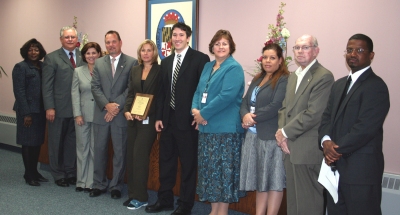 (Left to Right) Commissioner Edith J. Patterson, Commissioner President Wayne Cooper, Commissioner Candice Quinn Kelly, Acting Director of Fiscal Services David Eicholtz, Acting Budget Director Jenifer Ellin, Acting Senior Budget Analyst Jacob Dyer, Grants Analyst Debra Posey, Budget Analyst TaTanya Bowman, Commissioner Robert J. Fuller, and GFOA Maryland Representative Charles Curtis pose following the presentation of the GFOA Distinguished Budget Award to the Budget Division on October 17, 2006.
LA PLATA, Md. - The Charles County Commissioners announced today that the Department that Fiscal Services' Budget Division has received the
Distinguished Budget Presentation Award
for Fiscal Year 2007 from the Government Finance Officers Association (GFOA) of the United States and Canada. This is the eleventh consecutive year the Budget Division has received this prestigious recognition for government budgeting.
Members of the Budget Division received a Certificate of Recognition for Budget Presentation on October 17, 2006, for their leadership role in the creation of the budget document.
"We are extremely proud of our Budget Division's achievement, which reflects the staff's continuing commitment to meeting the highest principles of government budgeting," said the County Commissioners in a released statement.
In order to receive the award, the budget document had to satisfy nationally recognized guidelines for effective budget presentation. These guidelines assess how well a budget serves as a policy document, financial plan, operations guide, and communication device. Budget documents must be rated "proficient" in all four categories to receive the award.
The Government Finance Officers Association is a nonprofit professional association serving 14,000 government finance professionals throughout North America. The Association's Distinguished Budget Presentation Award Program, instituted in 1984, is the only national awards program in government budgeting.