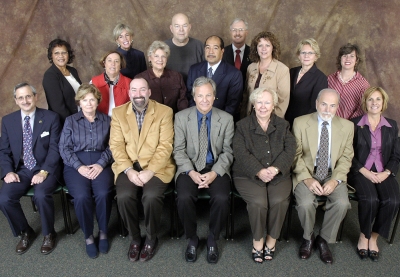 Directors for the CSM Foundation board include, front from left, CSM President and foundation Secretary-Treasurer Bradley Gottfried, Second Vice Chair Sally Grainger, First Vice Chair Don Parsons, CSM Foundation Chair Mike Besche, Rhokey Millham, Clair Tweedie, and CSM Executive Director of Advancement Michelle Goodwin; middle from left, Casey Smith, Marjorie Mayer, Evie Hungerford, Steve Proctor, Suzanne Wible, Kate Winn and Carrie Polk; and rear from left, Robbie Loker, Donnie Cox and Gregory Cockerham. Photo courtesy of CSM.
LA PLATA, Md. - At the College of Southern Maryland, the CSM Foundation Board provides the academic and financial support students need to realize their potential. They do this by funding scholarships and technology that enable students to pursue their goals.
"The CSM Foundation has been successful because of the generous donation of time and commitment our board chairs and directors provide to the college," said Jane Loughran, CSM Director of Development. "Foundation directors see first-hand how CSM benefits our community and they know this success is often due to private support. Their work on the foundation board provides financial support for initiatives that are so very important to our students daily experiences here at the college."
In November, CSM announced the induction of four new CSM Foundation Board directors: Greg Cockerham, Steve Proctor, Casey Smith and Suzanne Wible. "Each new director brings with them their own wealth of personal, business and community experience that is vital to the Foundation's future success," added Loughran.
Cockerham received his associate's degree from Charles County Community College (now CSM) before earning his bachelor of science in business administration degree from West Virginia University, and prior to attending the University of Maryland's banking school. He has been working in the banking industry for 30 years, most recently as the executive vice president and chief lending officer for Community Bank of Tri-County. Cockerham, an advocate for CSM for over 30 years, describes himself as "extremely proud of the institution." He is also a member of the Rotary Club of Charles County, Grace Brethren Christian School Board and the Charles County School Vocational Cooperative Education Committee.
Proctor earned his bachelor's degree in political science from George Washington University and is currently a Howard "Pete" Rawlings Fellow at the University of Maryland's School of Public Affairs. Proctor is the president, founder and CEO of G.S. Proctor and Associates, Inc., a lobbying and consulting firm, based in Upper Marlboro. He is chairman of the board for Mission of Love Charities, and is a board member for Rosecroft Raceway, Inc., Old Line Bank, and Bishop McNamara High School.
Smith attended Bowie State and the University of Maryland where she earned her elementary education degree and certification. Smith taught first through eighth grades for 37 years at various Calvert County elementary and middle schools. She currently works as a Weekenders fashion consultant and reading and languages tutor for the Prince Fredrick Tutoring Club. She also volunteers and supports fundraising efforts for the United Way and Patuxent United Methodist Church.
Wible is the executive assistant to the chief operating officer of Bolton and Associates, LLC. She earned her associates in management development at CSM and was a student government association president before earning her bachelor's in management studies at the University of Maryland University College. Wible is a member, and former president, of the Waldorf Jaycees, the Lions Club, the Western Charles County Business Association, the New Life Wesleyan Church and the Board of Social Services.
In the last few years, the CSM Foundation has raised:
* over $500,000 in private funds to build the St. Charles Children's Learning Center at the College of Southern Maryland, La Plata Campus;
* over $200,000 in support of athletic equipment and programs;
* $587,352 in scholarships for CSM students; and
* $534,204 in matching funds for technology.
For information on the CSM Foundation call 301-934-7649 or 301-870-3008, Ext. 7649 for Charles County; 240-725-5499, Ext. 7649 for St. Mary's County or 443-550-6199, Ext. 7649 for Calvert County or visit
http://www.csmd.edu/alumni_foundation/foundation/
.