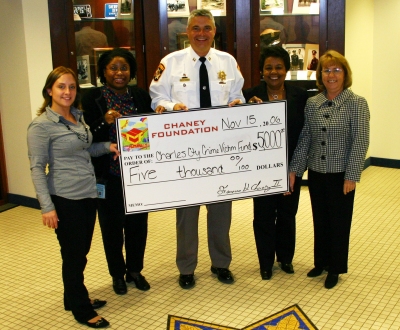 LA PLATA, Md. - The Charles County Sheriff's Office announced today that they received a $5,000 grant from the Chaney Foundation to assist with two programs managed by the Victim Services Section. On Nov. 15, Jessica Pinkey, community relations associate for the Chaney Foundation, and Carol Jackson, a Foundation board member, presented the grant to Capt. F. Michael Wyant, commander of the Support Services Division, Victim Services Coordinator Ruth Anderson-Cole and Fern Brown, Charles County Circuit/District Court domestic violence coordinator.
The grant will support the Charles County Crime Victims Fund and the rape/sexual assault kit program. When victims of rape or domestic violence go to the hospital for examination, police need their clothing for evidence, leaving the victims with nothing to wear home from the hospital. Three years ago, Anderson-Cole and Brown developed the kits, which contain clothing, toiletries and educational material and are provided to the victims by Civista Medical Center's Sexual Assault Nurses.
The Crime Victim's Fund provides financial assistance to crime victims in Charles County. Victims often need assistance with relocation, emergency transportation, re-keying of locks, housing accommodation, legal fees, replacement of stolen personal identification, emergency replacement of medications, repairing or replacing broken or stolen eye glasses, emergency meals and non-violent crime scene clean up. The fund will provide victims between $25 and $250 for emergency help.
The programs provide a much needed service to victims of homicides, suicide, domestic violence, rape/sexual assault, burglaries, traffic fatalities, hate crimes and strong-arm robberies. In 2005, the Crime Victims Unit at the Sheriff's Office assisted 3,227 victims.
"I truly appreciate the generosity of the Chaney Foundation," said Sheriff Frederick E. Davis. "Their kindness and community spirit will help us provide a much needed service and will greatly ease the anxiety of crime victims."