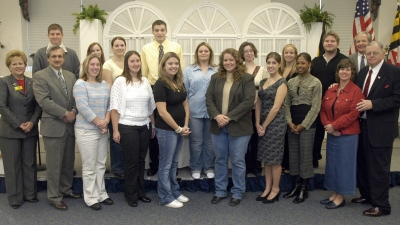 CSM scholarship recipients were recognized Oct. 21 at the seventh annual scholarship breakfast, which honors academic and community service excellence. Front from left are Delegate Sally Jameson, CSM President Bradley Gottfried, Amanda Baden, Rebecca Churchwell, Christie Cooper, Suzanne Davis, Jennifer Decker, Shanae Fields, CSM Foundation Director Carrie Polk, and Greater Waldorf Jaycees Foundation President Dick Gregory; rear from left are Justin Hoffman, Justina Hawk, April Murphy, Brandon Norris, Shanon Roulette, Katelyn Snider, Christina Trefry, Patrick Tweed, and CSM Foundation Chair Mike Besche.
WALDORF, Md. - The Greater Waldorf Jaycees and the College of Southern Maryland (CSM) invested in the future of more than 70 students by recognizing scholarship recipients during the seventh annual Scholarship Awards Breakfast on Oct. 21. The event, held at the Waldorf Jaycees Community Center, recognizes students, their families, and the donors who make the scholarships possible. Scholarship recipients are chosen based on recommendations, academic achievement, financial need and demonstrated potential for community leadership.
Dick Gregory, president of the Greater Waldorf Jaycees' Foundation, and CSM President Bradley Gottfried, presented the awards, including 11 renewal scholarships. Among those recognized were previous recipients Kristina Freeman and Shannon Speedling, who received special recognition for achieving the highest grade point averages.
The Waldorf Jaycees have been helping Charles County residents develop leadership skills through community service for 37 years. According to Gregory, Jaycee volunteers assist the community by providing aid to the elderly, helping the developmentally disabled, encouraging crime prevention and developing youth assistance and community support programs.
The Waldorf Jaycees sponsored four scholarships and co-sponsored 25 scholarships with CSM.
The following students received scholarships:
2006-2007 Jaycees' Scholarships:
Brandi Tanner received the Gertrude Mitchell Nursing Scholarship
Brooke Good received the Mary Matula Scholarship
Ericka Critchley received the James Sweatt Scholarship
Jamie Tarbox received the Brian Ramsey Memorial Scholarship
2006-2007 CSM Foundation/Waldorf Jaycees Scholarships
Rebecca Churchwell
Andrew Dias
Robert Donnelly
Shonae Fields
Jamie Hamilton
Justin Hoffman
Justina Howk
Victoria Langley
Kristy Lingenfeller
Tracy Moudry
Natalee Reyes
Katelyn Snider
Janelle Spencer
Ellen Underwood
2006-2007 Renewal CSM Foundation/Waldorf Jaycees Scholarships
Amanda Baden
Mary Bivens
Christie Cooper
Kelcei McElvine
Iam Moore
Rachael Olup
Jennifer Roche
Sarah Ross
Shannon Speedling
Christina Trefry
Cassandra Wallio
2006-2007 CSM Foundation Scholarships
Cravat Memorial Scholarship
Jimmie Bise
Yvonna Craig
Andrew Dias
Shonae Fields
Justina Howk
Justin Hoffman
Stacy Huntt
Victoria Langley
Kristy Lingenfelter
Ian Moore
Tracy Moudry
Shannon Myles
Rachael Olup
Jennifer Roche
Sarah Ross
Katelyn Snider
Shannon Speedling
Janelle Spencer
Christina Trefry
Ellen Underwood
Cassandra Wallio
Joseph F. Rice and Mae Irene Fauth Memorial Scholarship
Katelyn Snider
Christopher Chinault Scholarship
Jamie Hamilton
Hancock Music Scholarship
Yvonna Craig
Jing Qin
Patrick Tweed
Walter B. Grove II Memorial Art Scholarship
Kaitlin Jencso
Alyssa Peterson
James C. Mitchell Nursing Scholarship
Amanda Baden
Jennifer Decker
Jamie Hamilton
Denai Scott
Maurice J. McDonough Scholarship
Teaira Franklin
Justin Hoffman
Kristy Lingenfelter
Tracy Moudry
Sarah Ross
Janelle Spencer
Joanne Zwick Memorial Scholarship
Amanda Baden
Christie Cooper
Peggy Ann Crim
Jennifer Decker
Kelcei McElvine
Lisa Pumphrey
Mary Croft Ward Scholarship
Robert Donnelly
St. Mary's County Government Scholarship
Alicia Arthur
Tammy Bradburn
Laura Britt
Catherine Carter
Suzanne Davis
Catherine Dean
Leticia Disabella
Jennifer Edison
Jennifer Hughes
Natalie Lemire
April Murphy
My Nguyen
Brenda Nussberger
Kelly Otta
Shannon Roulette
James Tawney
April Thompson
Gary Thompson
Darlene Thompson
Nancy Wickham
Helen and Mickey Todd Scholarship
Lamekia Estep
Teaira Franklin
Derikia Gray
Tarwanda Terry
Lakessha Washington
Amanda Wilson
The Boeing Engineering Scholarship
Beau Bailey
William Garrity
Brandon Norris
Robert Wade Sibole Scholarship
Justin Hoffman
Jack Love Sprague Scholarship
Lisa Kay La Clair
CSM Alumni Scholarship
Tracy Moudry
Helen and Henry Lawlor Scholarship
Natalee Reyes
J. Ivey Cline Scholarship
Mary Bivens
Sarah Ross
L.K. Farrall III Memorial Scholarship
Janelle Spencer
Civista Medical Center Scholarship
Rebecca Churchwell
Ed Matthews Jr. Scholarship
Rebecca Churchwell
For information on scholarship opportunities at CSM, call 301-934-7531, 301-870-3008, Ext. 7531, or visit
http://csmd.edu/Financial/scholarships/
.