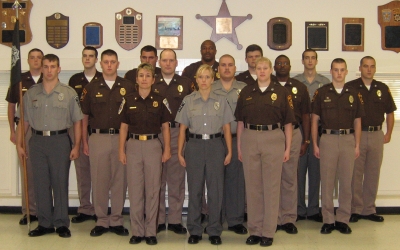 SOUTHERN MARYLAND - The Southern Maryland Criminal Justice Academy celebrated the graduation of 16 new correctional officers and two support staff at a ceremony held Nov. 3 at North Point High School for Science, Technology and Industry.
The students completed an eight-week training program, which began September 11. Eleven of the graduating officers are from the Charles County Sheriff's Office, five are from the Calvert County Sheriff's Office and two are from the St. Mary's County Sheriff's Office.
At the ceremony, Academy instructors presented awards to students who excelled in two categories. Correctional Officer Kyle Dudley from Charles County received the physical fitness award and Correctional Officer Brandy Baugh from Calvert County received the scholastic achievement award.
The class boasted a 94.35 final class academic average. Their class motto, chosen by the students at the beginning of the training program, was "Stand Strong, Stand Together."
Mr. Milton Crump, director of the Calvert County Detention Center, served as keynote speaker for the ceremony. Ed Schauf of the College of Southern Maryland's (CSM) legal studies department spoke about the articulation agreement between the Academy and CSM, which provides each graduate with six college credit hours for completion of Academy courses. Commander of the Charles County Sheriff Office Corrections Division, Capt. Tim Plumer, Calvert County Sheriff Mike Evans and St. Mary's County Sheriff David Zylak each shared remarks with the graduates.
The Southern Maryland Criminal Justice Academy congratulates the following new correctional officers: Charles County Sheriff's Office: David Cobb, Kyle Dudley, Evin Flowers, Richard Holliday, John Huguley, Matthew Kline, Janice Leukhardt, Tony Oliver, Michael Plumer, Stephen Riffle and support staff Clara Stephens. Calvert County Sheriff's Office: Brandy Baugh, Philip Brady, Sean Devore, Joshua Underwood and support staff Burgess Wood. St. Mary's County Sheriff's Office: Bryan Long and Kelly Lowther.