By ALAN J. MCCOMBS, Maryland Newsline/Capital News Service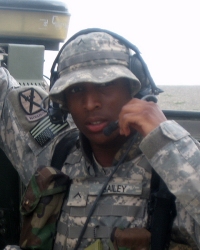 COLLEGE PARK - Michael V. Bailey, 20, an Army private from Waldorf, Md., who had just joined the military in January, died last month at a base in Salerno, Afghanistan, the Army reported.
Bailey died Oct. 27 of a single, noncombat gunshot wound; the cause is under investigation, military officials said.
He was buried Nov. 9 at the Maryland Veterans Cemetery in Cheltenham.
Officials said Bailey was an artillery man in the 10th Mountain Division's 4th Battalion based out of Fort Drum, N.Y.
He shipped out to Afghanistan in August.
To those who knew Bailey, he was much more than a soldier.
He was a fun-loving child who turned into a good man, said the Rev. Harry Seawright, pastor of the Union Bethel A.M.E. Church in Brandywine, which Bailey had attended. His funeral services were also held there, drawing more than 200 mourners.
"He was a nice-(mannered) young man, and that's what I remember him as," said Seawright, who knew Bailey since he baptized him as a 2-year-old.
Bailey "grew up in the church" but drifted away as "all young men do" over the last five to six years, Seawright said.
But he still vividly remembers him singing in the children's choir.
In Afghanistan, Bailey's voice carried not hymns, but directions.
He worked as a radio and computer operator for the 25th Field Artillery Regiment, 3rd Brigade Combat Team in the command center in Salerno, coordinating the military's artillery barrages, said Lt. Col. Paul Fitpatrick, a spokesman for the Army in Afghanistan.
Following his death, he was posthumously awarded the Army Commendation Medal for "engaging in every mission with accuracy and professionalism," Fitzpatrick said. In particular his commanding sergeant commended him for his assistance in ensuring the success of "bold" raids by the military against insurgents.
Bailey's "quick and professional performance" Aug. 24 helped cover the escape of U.S. forces pinned down by Taliban insurgents, Fitzpatrick said. U.S. forces killed an estimated 25 enemy soldiers in that raid, Fitzpatrick said.
That life in Afghanistan bore little resemblance to the one he'd known in Southern Maryland, friends say.
Harold Young, a friend who would solicit Bailey's help tuning up his Ford Mustang, recalled him fondly. He said Bailey liked cars and loved his red Yamaha motorcycle.
He "wasn't really a serious guy," said Young, an operations engineer from Waldorf. "He was just a funny type of guy but knew when it was time to get serious," Young said.
Young said he didn't agree with his friend's decision to join the Army. But he understood what compelled his friend to join.
"He wanted to belong to something," Young said. "Besides being Michael, he had to stand for something," said Young, who said he's known Bailey for more than two years.
"The brother was always looking to help anybody," Young said.
Bailey's mother, Darlene Bailey, of Waldorf, said that she and her husband, Vincent, did not want to talk about the death of their son.
"I just buried my son," she told a caller. "Now is not a good time."