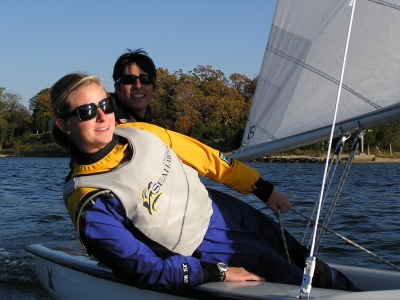 Melissa Pumphrey, center, pictured with teammate Derrick Vranizan, recently received an All Academic award from the ICSA for excellence in both sailing and academics.
ST. MARY'S CITY, Md. - Melissa Pumphrey, a senior at St. Mary's College of Maryland (SMCM), has been named to the first-ever ICSA (Inter-Collegiate Sailing Association) All Academic Sailing Team. The team honors male and female scholar athletes who have succeeded at the highest level, both on the water and in the classroom. The All Academic team members boast 3.76-3.99 GPAs at such rigorous institutions as Yale, Harvard and Stanford. An economics major and Annapolis resident, Pumphrey maintains a 3.99 GPA in addition to competing on the school's number-one ranked sailing team.
The inaugural team consists of nine All-Academic and ten Honorable Mention student-athletes, nominated by their respective schools. All must be a key starter or reserve, maintain a cumulative GPA of 3.5 on a scale of 4.00, and have reached junior standing at their institution.
Adam Werblow, coach of St. Mary's sailing team, said "Melissa helps to set the standard for excellence on our team with performance on the water and in the classroom." He praised her leadership abilities, citing her involvement with the SMCM women's sailing team, which placed third at the 2006 ICSA Women's National Championship. "She continues to help the team improve everyday," he added.
Pumphrey, a graduate of Annapolis High School, credits the SMCM sailing program with her decision to attend the school. "I'm really glad I'm here," she said. "It's a great school, with great sailing-friendly people, personal attention…it's perfect for me."
St. Mary's College has a long history of sailing championships. Currently, the women's team is ranked first in the nation by Sailing World magazine, and the co-ed team is ranked fourth. In 2004, the College won the annual ICSA/Layline North American Team Race Championship. Since 1991 the college has won 10 national sailing championships and produced more than 100 ICSA All-American sailors.