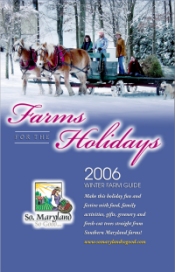 SOUTHERN MARYLAND - If you're tired of the shrink-wrapped, made in China, holiday items that you find in the big chain stores every year, consider this. An inspiring guide published by the Southern Maryland Agricultural Development Commission makes it easy to find every thing you'll need for the holidays including unique gifts, food, and home décor. There's also a list of fun farm events for the whole family to enjoy. The guide promotes local farms in the five county area that includes Anne Arundel, Prince Georges, Calvert, Charles, and St. Mary's counties.
The beautifully illustrated
Farms for the Holidays
guide hi-lights farms that offer an abundant harvest of fresh products for festive dinners including flavorful, locally raised turkeys, meats, poultry and eggs; plentiful greens and seasonal produce; fresh seafood straight from the Chesapeake Bay; and local wine from our southern Maryland wineries. If you find yourself running short on time this year, let a local farm do your baking by ordering ahead for your favorite holiday pie or cookies.
Farms for the Holidays
is full of surprising alternatives to shopping at the malls-and you will have an adventure along the way. Visiting a local farm during the holiday season is a pleasant experience for adults and children alike. As you enjoy the beautiful scenery, you can be assured there will be friendly folks to greet you and help you put together a gift basket of delicious home made jams, jellies, syrups, fruit butters, savory vinegars, and fragrant local honey. Farm-made crafts make original gifts too. You'll discover ideas for stocking stuffers such as scented goats milk soaps or maybe cozy gloves, scarves and mittens woven from local Alpaca wool.
"Creative gift giving takes many forms, but choosing items grown and created locally gives back hundreds of times over to your community," said Dr. Christine Bergmark, director of the Southern Maryland Agricultural Development Commission of the Tri-County Council for Southern Maryland. Bergmark's organization coordinates the
Southern Maryland, So Good
program that publishes the holiday farm guide. "The directories make nice holiday gifts too," said Bergmark.
In addition to food and gift items,
Farms for the Holidays
also tells you where you can find the perfect Christmas tree to grace your home. Fragrant live or fresh-cut, there are many varieties of southern Maryland-grown trees to suit every taste and pocketbook from tiny conifers in pots to the grandeur of full size pine, spruce, and fir. Many farms also offer fresh greenery to deck your halls, including ready made wreaths, garlands, swags and beautiful table centerpieces. If you're feeling creative, you can also attend a farm craft workshop and learn how to make your own. And at the end of a busy day, cuddle up to a fireplace aglow with locally cut firewood.
Be sure to take advantage of this time of year and spend quality time together with the entire family.
Farms for the Holidays
points the way to farm-hosted family events and fun activities including live nativity scenes and horse carriage rides. Or, take a fantasy trip to the North Pole and enjoy a winter wonderland of illuminated candy canes, ginger bread houses, and much more.
So, the next time you're wondering where to shop and what to give, think locally. Let the
Farms for the Holidays
guide change the way you approach the season and you will discover the seasonal bounty and ingenuity of Maryland's family farms.
Bergmark also suggests looking for roadside signs along the way to find farms that sell fresh products. "You may have to travel up a long dirt road to a farm, but don't be afraid to do so," she said. "If the sign is there, it means you are welcome at the farm. Just be sure that you respect their hours and privacy." It is also important to note that the Amish do not conduct business on Sundays.
Free copies of the
Farms for the Holidays
guide are available, while supplies last, at these Southern Maryland locations:
* Calvert Country Market in Prince Frederick,
* Blue Wind Gourmet in California,
* Charles County Tourism Office in La Plata,
* St. Mary's Welcome Center in Charlotte Hall,
* Greenstreet Gardens in Lothian,
* and Cedar Hill Farm in Waldorf.
To request a copy by mail, call 301-274-1922. You can also
download a copy in PDF format
.