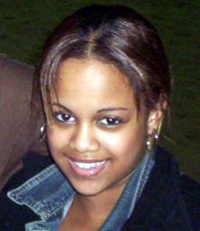 LA PLATA, Md. - The Charles County Sheriff's Office today asked for the public's help in locating a teenager who has been missing since Oct. 22, 2006.
Jessica Irene Elliott, 17, was last seen leaving her home on University Drive in Waldorf. She is believed to have run away and may be staying with a friend. There is no indication of foul play. However, her case is considered critical because she is prescribed medication that she does not have with her.
Elliott is described as a black and Hispanic female with black hair and brown eyes. She is 5 feet 5 inches tall and weighs 120 pounds. She has a tattoo of a heart and a rose with barbed wire on her right shoulder, a scar on her left shoulder and two scars on her right hand. Her nickname is Jessie.
Anyone with information about Elliott's whereabouts is asked contact the Charles County Sheriff's Office at 301-932-2222 or D/Sgt. Kevin Leahy at 301-609-6482.