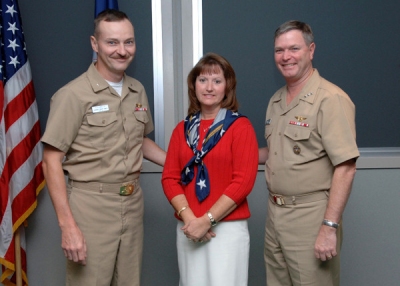 Rear Adm. Charles "Grunt" Smith, Mrs. Roberta Smith and Vice Adm. Walter Massenburg, Commander, NAVAIR. Photo courtesy of NAVAIR.
By Rob Koon, NAVAIR Public Affairs
PATUXENT RIVER, Md. – Navy Capt. Charles E. "Grunt" Smith was promoted to the rank of Rear Admiral (lower half) in a ceremony held on Tuesday, Nov. 7 at Headquarters, Naval Air Systems Command, Patuxent River, Md.
Smith is presently serving as the Assistant Commander for Acquisition (AIR-1.0), Naval Air Systems Command (NAVAIR) and is awaiting a new assignment.
Vice Adm. Walter Massenburg, the Commander, NAVAIR, presided over the ceremony. Massenburg and Smith's wife, Roberta, pinned the stars on his collar.
"When you take that step up to a flag officer, it is an opportunity to continue to contribute at a more significant level. Our expectations for Grunt are very high," said Massenburg. "Grunt's past performance during the refueling of the USS Dwight D. Eisenhower (CVN 69), motivating the crew, keeping the project within cost and on schedule, and how the ship performed after the refueling was completed, went long ways towards making this promotion happen and I am proud to promote you."
"I need to thank Adms. Zortman and Massenburg for their faith in me from what I was doing then to what I'm doing now and I want to thank the wonderful people around me for the hard work that they do confronting many different and challenging issues," said Smith after the pinning ceremony. "I want to thank my wife Roberta; I'm here because of her and all she has done to support me. I also need to thank our boys for understanding my life at sea for the last 25 years"
The Smith's have three sons, two are in the Service forward deployed in the Global War on Terror. "I'm more motivated than ever to continue my work supporting those men and women in the Fleet. If what we are doing does not support them, then I'm not happy about it and will do whatever I can to change that," Smith added.
Rear Adm. Smith is a Navy Test Pilot, Nuclear Surface Officer, and Acquisition Professional with Commanding Officer tours of a Torpedo Bomber Squadron (VS-29), the helicopter carrier, USS Inchon (MCS-12), and the nuclear aircraft carrier, USS Dwight D. Eisenhower (CVN 69).