WHITE PLAINS, Md. - The Charles County Arts Alliance (CCAA) has announced that the following visual artists will have their artwork on display in various locations throughout Charles County during the month of November.
SmithBarney Gallery
3825 Leonardtown Road, Suite 6, Waldorf, MD
Hours: Monday - Friday from 9:00 am - 5:00 pm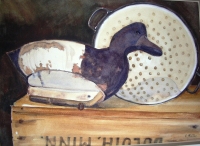 Through the generosity of the good people at SmithBarney, the CCAA now offers artists free gallery space in Waldorf. Artist Connie Miller will christen the new space with an exhibit of her work.
Connie Miller is a native Maryland artist living and painting on Cobb Island. Although she has worked in multiple media, Connie prefers working in watercolors because of their transparency, spontaneity, and freshness. Her work has been exhibited throughout Southern Maryland and in Virginia. Connie's watercolors have won an array of art awards and are included in both private and corporate collections. Additionally, she has painted numerous commissioned paintings. Connie serves as the Vice President of the CCAA, and spearheaded the popular CCAA Regional Artists Workshop Series.
Richard Clark Senior Center Gallery
(1210 Charles St., La Plata, MD)
Monday - Friday (9:00 am - 4:00 pm)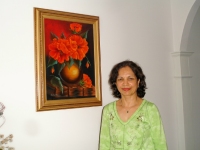 Sudha Reddy loved to draw and paint from the earliest age. Inspired by her mother, she learned many different art forms throughout her childhood. Although she has always painted in several mediums, Sudha now loves to paint in oils. Recently she has been painting on a variety of surfaces, including metals and wood. "I reach my canvas when I see beautiful surroundings, beautiful photographs or great paintings," writes Sudha. "Over the years I read a lot of art history. I never completely stopped drawing or painting. It is a meditation and also a technique of communication with the world and with my inner-self." Sudha has participated in many solo shows and many juried shows, winning several awards. One of her paintings was chosen and now appears in the newly released brochure of the Mattawoman Creek Art Center. In reflecting upon art, Sudha says, "There is an artist in everybody. Everybody has some type of creativity, which is natural order of life and energy. The big art is our life and nature around us. Painting is an expression of my feelings and it gives me happiness, and I want to share it with others. Art has a great power on us, it heals, it calms, and it mesmerizes many."
CCAA Gallery at the United Way
(10250 La Plata Rd., La Plata, MD)
Monday - Friday (9:00 am - 4:00 pm)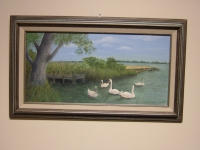 Joyce Suit Cooksey has always had an interest in art, but says that there was never time to pursue it until she retired from the USDA after 25 years of service and raising five children. Joyce has had the privilege of taking lessons from the following teachers: Gene Wood, Gerry Wood, Connie Miller, Alice Tucker, and Betty Carney. Her love of photography has helped her immensely in composing her pictures. Joyce has tried working in oil, acrylic, watercolor, and pen/ink. She has even created one sculpture of which she is very proud. Despite attempting all these varied mediums, Joyce has concentrated mostly on watercolor, mixing in a little pen/ink. Her favorite subjects are landscapes and seascapes. Joyce has exhibited in the Charles County Fair and the Senior Art Competition for many years.
County Commissioners' Gallery
(200 Baltimore St., La Plata, MD)
Monday - Friday (9:00 am - 4:00 pm)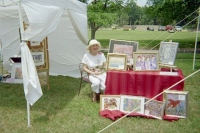 Lucretia Dewey Tanner is an artist who paints with strong and vibrant colors. Her medium is acrylic and her subject matter is eclectic, ranging from flowers, landscapes, people and abstracts. None are executed traditionally. Lucretia is a member of the Southern Maryland Art League and has exhibited her paintings throughout the Southern Maryland area. Her works are in private Collections from Connecticut to Florida as well as Colorado. For several years, she has donated paintings to the annual Cerebral Palsy fund raiser and to the Baden Library. Lucretia and her husband have traveled extensively and have visited all the major art museums of the world, which have influenced her passion for art. They live on a Christmas tree farm in Prince George's County and also have a farm in Charles County.