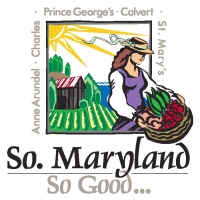 HUGHESVILLE, Md. -
So. Maryland So Good
, the highly successful agricultural marketing campaign sponsored by the Southern Maryland Agricultural Development Commission, has now extended its influence nearly 5,000 miles to Maui, Hawaii. Residents and visitors to the island paradise are now being encouraged to buy local under a new Maryland-inspired program called Maui County Fine and Fresh.
Searching for a model on which to base a new agricultural initiative for the County of Maui, an entity that includes the islands of Maui, Moloka'i and Lana'i, Lynn Araki-Regan, Office of Economic Development coordinator, identified So. Maryland, So Good as one of the best programs in the country supporting local agriculture.
Maui Communicators, the program's developers, contacted So. Maryland, So Good Executive Director, Christine Bergmark, to learn how the Southern Maryland program worked and took inspiration from the web site, harvest guide and other promotional materials.
The Maui County Fine and Fresh web site, mauicountyfinefresh.net, includes a source guide listing local farmers and their crops; participating restaurants and farm tours and food festivals; a logo depicting the island's rich volcanic soils, sun and water resources; banners, menu symbols and other materials.
More than 60 fruits and vegetables are grown on Maui from asparagus to zucchini, mangos to pineapple, and such exotics as abiu fruit and loquats.
Like Maryland, Maui is pushing to preserve its rural charm, striving to keep Maui green by sustaining, growing and preserving local agricultural.
Reviewing the efforts on Maui, Bergmark noted that "Maryland has learned that properly promoting local farm products can have an important impact on keeping farming vibrant. We're delighted to see many of our ideas adopted in far away Maui and we welcome the opportunity to learn from each other as we help support our farm communities."
You can learn more about the
So. Maryland So Good
program by visiting
http://www.somarylandsogood.com/
.