CSM's Elizabeth M. Benson Showcased in Maryland Nursing Association Calendar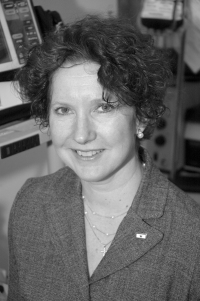 LA PLATA, Md. - Inspiring nurses and patients through thoughtful practice was just one of the criteria used to select nurses appearing in the Maryland Nurses Association's (MNA)
Faces of Nursing
calendar for 2007. Among those honored was the College of Southern Maryland's (CSM) Allied Health Programs Coordinator and Adjunct Instructor, Elizabeth M. Benson.
According to Sandra H. Bryan, MNA's president, the nurses featured in the
Faces of Nursing
calendar "reflect the richness and diversity of the [nursing] profession…and exemplify the expertise present in many facets of nursing." The goal of the MNA calendar is not only to highlight the efforts of individuals, but to provide inspiration to colleagues and future nursing professionals, and to showcase nursing career paths.
Benson earned her associate's in nursing from Hahnemann University and Medical Center and her Faith Community Nurse certification at Duke University. She also holds a bachelor degree from Worcester Polytechnic Institute and a master's in education leadership from Regent University.
She has worked as a nurse for more than 25 years providing direct patient care, administration, community outreach and staff development. She began her career at CSM in 2004 as an adjunct instructor in the college's allied health program and was named program coordinator in 2006. Last year, Benson was the recipient of the Maryland Nurses Association District 9's Nurse Educator of the Year Award.
"I'm honored the MNA chose me as one of their calendar's faces of nursing," said Benson. "All levels of nursing education is important in nursing. The NMA recognizes the commitment and contributions of all nurses to the nursing profession, regardless of which nursing degree we've completed. When nurses are empowered, the care our patients receive is improved. It is vital to our communities to promote excellence in nursing practice by providing educational opportunities for continued professional development and personal growth."
In addition to her duties at CSM, Benson serves as a nursing advocate for the American Nursing Association (Md. - District 5), and is co-chair of the State Legislative Committee and District-9 president of the Maryland Nursing Association.
She is married to Major Jim Benson (USAF Ret.). They have five children, four of whom have or are serving in the U.S. armed forces.
MNA is Maryland's only professional organization for nurses and it prides itself on being a voice for all nurses regardless of academic preparation, training and organizational affiliation. This is its second "Faces of Nursing" calendar.
For information on CSM's allied health programs call 301-934-7541 or 301-870-3008, Ext. 7541 for Charles County; 240-725-5499, Ext. 7541 for St. Mary's County or 443-550-6199, Ext. 7541 for Calvert County or visit
http://www.itc.csmd.edu/nur/
. For information on MNA, call 410-944-5800 or visit
http://www.marylandrn.org/
.