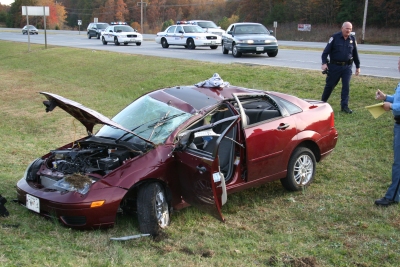 2007 Ford Focus was involved in a single vehicle accident that left the driver dead. Photo: Bryan Jaffe,
County Times
.
HOLLYWOOD, Md. - On Saturday, Nov. 04, 2006, members of the St. Mary's County Sheriff's Office Collision Reconstruction Team responded to the area of Rt. 235 and Rt. 245 for a report of a fatal motor vehicle accident.
The preliminary investigation revealed that a 2007 Ford Focus driven by William Andrew Bolt (44) of Lexington Park, Md. was driving southbound on Rt. 235 just south of Rt. 245 when it crossed the grassy median. Bolt's vehicle then crossed both northbound lanes of Rt. 235 striking a curb on the northbound side. The vehicle then proceeded south against the northbound curb, crossing a driveway entrance striking another curb. Mr. Bolt's vehicle then went airborne and overturned coming to rest on its wheels.
As a result of the collision, Bolt received fatal injuries and succumbed to those injuries at St. Mary's Hospital.
The preliminary investigation also revealed that alcohol was not a contributing factor of the collision and occupant protection equipment was utilized properly.