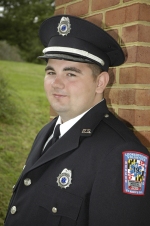 LEONARDTOWN, Md. - Leonardtown native Thomas Raley decided at the age of 16 to devote his life to helping people. His decision led him to become a volunteer Emergency Medical Technician (EMT) while he was still a student at St. Mary Ryken's High School. Following high school, he attended Duquesne University in Pittsburgh, Pennsylvania for a year. Then it was on to the College of Southern Maryland where he will earn his associate in emergency medical services and his paramedic certification in January 2007.
Raley decided to become a paramedic so he could help people to the greatest degree possible in a pre-hospital setting. He is currently working as a medic at the Charles County Detention Center. However, he will shortly move on to a position with Charles County Emergency Medical Services. "I think working with the Charles County EMS is going to be a great opportunity to apply the things I have been learning in our field classes to patient care," said Raley.
For Raley, field classes heightened his love for EMS work. He notes that he learned almost as much from the field training as he did from the classroom hours. "You got to see how what you are learning in the classroom can be applied directly to your patients," remarked Raley. "There is no substitute for hands-on experience."
Raley's favorite part of field training is applying patient assessment techniques to develop a diagnosis and treatment plan. He remarked, "To see your patient and apply your knowledge of different health factors, symptoms, etc. and then create a treatment plan is very rewarding, and I think it is more productive than reading scenarios in a book because you are faced with real people who need your help."
Raley, whose mother was also in the medical field for 20 years, promises to stay busy. He volunteers for three organizations: the Leonardtown Fire Department, the Leonardtown Rescue Squad, and the St. Mary's County Advanced Life Support Unit. "I like the feeling you get when you help someone and realize that without your help that person may have died," said Raley. "I don't know why but I just love it."
You can learn more about careers in emergency medical services and health care related opportunities at CSM's Healthcare Careers Expo, part of Healthcare Awareness Month, 3-6 p.m., Oct. 25 at the College of Southern Maryland, Prince Frederick Campus, 115 Williams Road, Prince Frederick. Located in the lobby, the expo will feature various healthcare professionals and students providing career information, demonstrations, and financial aid and academic advising.
For more information call 301-934-7541 or 301-870-3008, Ext. 7541 for Charles County; 240-725-5499, Ext. 7541 for St. Mary's County or 443-550-6199, Ext. 7541 for Calvert County or visit
http://www.itc.csmd.edu/nur/
.
The College of Southern Maryland is a regionally accredited community college that provides programs and services with a special focus on local workforce development to maintain and grow a healthy economy and community. CSM is the 2006 recipient of the Maryland Chamber of Commerce Partner in Business Award. For eight of the past 10 years, CSM has remained one of the top three community colleges in Maryland for its four-year graduation and transfer rates among first-time, full-time entering freshmen classes. For information call 301-934-7766 or 301-870-3008, Ext. 7766 or visit http://www.csmd.edu.